KATHMANDU - Nationwide voting began at 7:00 a.m. (0115 GMT) on Thursday for the much-awaited Constituent Assembly (CA) elections in Nepal.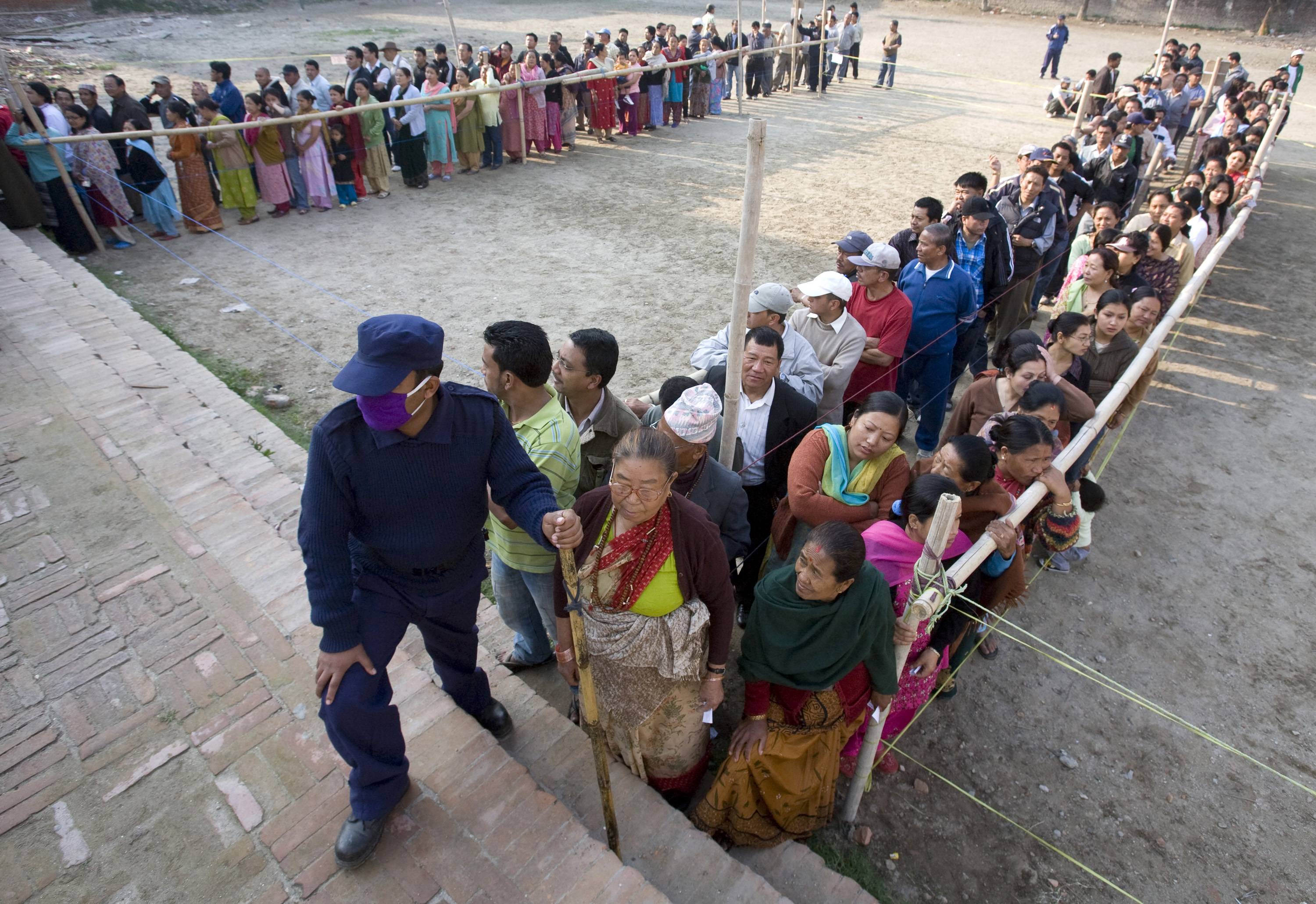 Nepalis queue up to vote at a polling station in the outskirts of Kathmandu April 10, 2008.  [Agencies]
According to information from the Election Commission (EC) on Wednesday, there are 20,810 polling centers in 9,793 places to hold the election simultaneously and voters entering the polling center before 5:00 pm (1115 GMT) on Thursday will be able to exercise their voting rights.
There are 3,937 candidates, including 326 female party candidates, 42 independent women, 2,795 male party candidates and 774 independent male.
Some 126,000 staff and 108,000 volunteers are mobilized to manage the voting.
The Constituent Assembly to be formed after the elections is to decide the future political setup and the fate of the monarchy in Nepal.
UN chief urges restraint on violence in Nepal
UNITED NATIONS - UN Secretary-General Ban Ki-moon Wednesday urged all parties in Nepal to exercise restraint on the violence that killed eight party members on the eve of an assembly election in Nepal.
Ban expressed deep concern and urged all parties to remain calm while cooperating to allow the election to take place in a peaceful atmosphere, said a statement issued by Ban's press office.
Seven Communist Party members and one Unified Marxist-Leninist candidate were killed in the violence.
"He expressed appreciation for the strong commitment to the democratic process shown by Nepalese leaders across the political spectrum," it said.
"The Nepalese have worked hard to reach this historic moment and deserve a credible ballot to cement democracy in Nepal," it added.
Meanwhile, the UN chief's special representative in Nepal, Ian Martin, has also expressed deep shock over the deaths.
A team from the UN Mission in Nepal is already on location investigating the deaths.