MOSCOW -- Russia's final pre-election opinion poll showed on Thursday that Kremlin front-runner Dmitry Medvedev has the support of 72.9 percent of voters in the upcoming presidential election.
The result was revealed by the state-run VTsIOM pollster just over a week left before the March 2 presidential elections.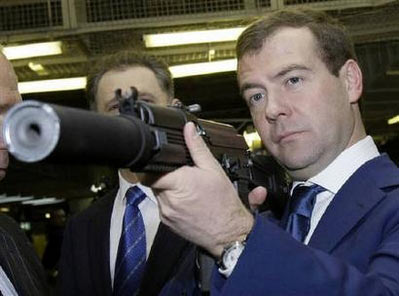 Russia's First Deputy Prime Minister and presidential front-runner, Dmitry Medvedev, takes aim with a Kalashnikov rifle during a visit to the Izhmash firearms plant in Izhevsk some 1000 km east of Moscow Feb. 19, 2008. [Xinhua]
"This is about the number President Vladimir Putin received in 2004 (71 percent)," RIA news agency reported, citing VTsIOM director general, Valery Fyodorov.
Currently a first deputy prime minister, Medvedev was publicly supported by Putin as his successor in mid-December, and was later nominated by the ruling United Russia party as a presidential candidate.
Given Putin's popularity, his endorsement of the first deputy premier is likely to guarantee Medvedev the presidency. Putin has also said that he will accept the post of prime minister if Medvedev becomes president.
The pollster also predicted Communist leader Gennady Zyuganov would come second with 15 percent of the vote, and Liberal Democratic Party leader Vladimir Zhirinovsky third with 10.9 percent.
The poll, conducted on Feb. 16-17, also estimated the voter turnout on March 2 elections at around 69.7 percent.
The poll solicited opinions of 1,600 respondents in 46 regions across the country, with an error margin not exceeding 3.4 percent.