By Rikki N. Massand (China Daily)
Updated: 2008-02-09 09:18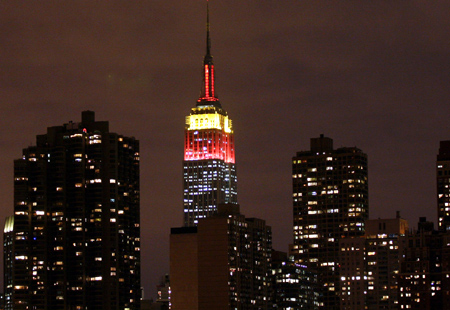 The Empire State Building is lit up in red and gold during the night of February 7, 2008 as part of the celebrations in New York for Chinese Lunar New Year. [Xinhua]
New York - New York City marked Lunar New Year in the grandest and most obvious way possible. Midtown's world famous Empire State Building commemorated the New Year by lighting up its tower red and gold on Thursday for the ninth time, as the occasion has been celebrated with this vivid display every year since 2000.
Goodwill and hope were expressed at the morning's press conference, as James T. Connors, the General Manager of the Empire State Building, spoke about the significance of this Year of the Rat as a symbol of good luck and prosperity.
"The lighting of the Empire State Building is the highest honor. We are proud that tonight it will be lit red and gold in celebration of the Asian New Year, and we will be spreading our good fortunes across the whole city for the coming year," Connors said.
Peng Keyu, China's Consul General in New York, spoke in the building's lobby about the celebration of Spring Festival and how symbolic the annual lighting has become to the Asian and Asian American communities.
"This event has come to be the embodiment of New York City's recognition of Asian Americans' contributions for the country's prosperity, which is also conducive to the American people's better understanding of Chinese and Asian traditional culture," Peng said.
Looking ahead to Beijing this summer, Peng said 2008 will be a year "of vital importance" for China to continue with its national development and relationship with the U.S.
"We are doing the final countdown to the unveiling of the Beijing Olympics, and the skyscraper's light of red and yellow colors will add more meaning to American Chinese Olympic dreams," he said, before leading the media to the observation deck for a photo session high above New York City.
At 1,454 feet tall the Empire State Building is known as the "World's Most Famous Office Building" and it has always stood as the flagship of New York City's skyscrapers. Located on 34th street in Midtown Manhattan, the historic building's top portion is usually specially lit for occasions such as Independence Day (red, white, and blue each July 4) and St. Patrick's Day (green on March 17), but this week the building's tower was lit royal blue in celebration of the New York Giants' victory in Super Bowl 42 last Sunday.
The ceremony was sponsored by the Chinese Consulate General, the Asia Society, the Greater Chinatown Community Association and the Empire State Building, LLC.