DUBAI - Al Qaeda's leader in Afghanistan vowed revenge for the killing of a top commander in a suspected US attack, in a video posted on the Internet on Wednesday.
"The men he trained ... will not rest until they avenge him and realise his aspirations and hopes, God willing," Mustafa Abu al-Yazid said in the recording posted on an Islamist Web site.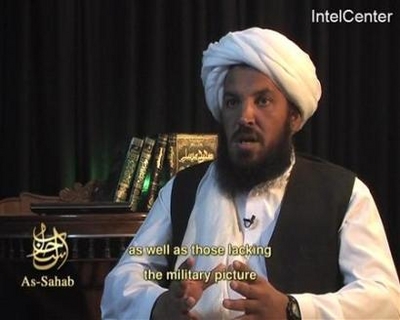 Abu Laith al-Libi, an al Qaeda commander in Afghanistan, is seen in this video footage captured from his April 27, 2007 as-Sahab interview. Libi, described by Western intelligence officials as one of Osama bin Laden's top six lieutenants, has been killed, US officials and a mouthpiece for the organisation said on January 31, 2008. [Agencies]
"The enemies of God were unable to confront Sheikh Abu Laith al-Libi on the battlefield or to fight him as equals as they are too cowardly for that," added the militant leader about the killing of Libi.
Libi, considered as one of Osama bin Laden's top lieutenants in Afghanistan, was killed in an suspected US missile strike that killed up to 13 foreign militants in Pakistan's North Waziristan border area in late January.
"His martyrdom is light and fire: light for those loyal to God to illuminate their path ... and fire against the enemies of God," Abu al-Yazid said. "Tomorrow is close."
The video was produced by al Qaeda media arm As-Sahab and carried English subtitles.
Libi's prominence in al Qaeda was highlighted last year by his appearance in a video with the group's deputy leader. He was the first spokesman to announce bin Laden had survived the US-led invasion of Afghanistan in late 2001.
US media have said the Libyan-born militant was believed to be behind a suicide bombing in February 2007 that killed 23 people outside the main US Bagram base in Afghanistan during a visit by US Vice President Dick Cheney.
In October the US military in Afghanistan named Libi among several "mid-level" al Qaeda and Taliban leaders and offered a $200,000 bounty for him, US media reported.
In 2002, Libi was the first from the group to bring news that bin Laden and Taliban leader Mullah Omar were alive after the US-led invasion of Afghanistan.
Some Western anti-terrorism analysts said past killings of leading al Qaeda figures had shown there were usually others ready to fill the gap in the organisation's ranks.
Abu al-Yazid appeared in the tape wearing Afghan robes and turban against a black background.