NAIROBI, Kenya -- An exit poll carried out on behalf of a US government-backed foundation indicates that Kenyan President Mwai Kibaki was defeated in last month's disputed election rather than being re-elected as he claims, according to officials with knowledge of the document.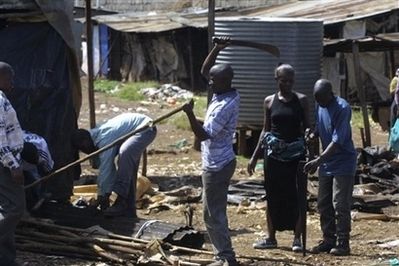 Members from the Luo tribe erect shops, Monday, Jan. 14, 2008 in an area where members of the Kikuyu tribe had their shops burned down after the Kenyan election results were announced in the Kibera slum in Nairobi. [Agencies]
The poll by the Washington-based International Republican Institute -- which hasn't been publicly released- further undermines an election result that many international observers have described as flawed. The outcome has sparked protests and ethnically driven clashes that have killed hundreds.
Opposition leader Raila Odinga led Kibaki by roughly 8 percentage points in the poll, which surveyed voters as they left polling places during the election December 27 , according to one senior Western official who's seen the data and requested anonymity because of the sensitivity of the issue. That's a sharp departure from the results that Kenyan election officials certified, which gave Kibaki a margin of 231,728 votes over Odinga, about 3 percentage points.
US and European observers have criticized the official results, which came after long, unexplained delays in counting the votes, primarily from Kibaki strongholds. Jendayi Frazer , the assistant secretary of state for African affairs, said over the weekend that there were "serious irregularities in the vote tallying, which made it impossible to determine with certainty the final result."
The head of the International Republican Institute -- a nonpartisan democracy-building organization whose work in Kenya was funded by the US Agency for International Development -- said the data weren't released because of concerns about their validity.
The institute contracted an experienced Kenyan polling firm, Strategic Public Relations and Research, which had done two previous national-opinion polls for the institute last year. But on election day the institute's staff found that pollsters weren't gathering information in some areas.
Institute President Lorne Craner said institute staffers weren't in all areas where pollsters were working, so they couldn't be sure which areas weren't represented. Officials at the polling firm couldn't be reached for comment, although outside experts said such data problems could be adjusted for statistically.
Craner also said he was wary of releasing the results after protests had begun, but he added that he wouldn't have released them even if there'd been no violence.
"We didn't think it made sense to put out what could be an invalid poll in a climate of great tension," he said.
The senior Western official, who reviewed partial results, described them as credible. The survey included a sufficient sample of voters from around the country, and Odinga's lead was comfortably outside the expected margin of error for a poll of that size, the official said.
"What it tells me is there was an exit poll that had one candidate with a significant lead who, at the end of the day, was not declared the victor. That seems to me to be a little surprising," the official said.
The election and its aftermath have destroyed Kenya's reputation for stability. As the country braced for more opposition protests later this week, former UN Secretary-General Kofi Annan was expected to arrive as early as Tuesday for talks with Kibaki and Odinga, although several attempts to get the two rivals to meet already have failed.
Kenyan activists called on US officials to release any data that would shed light on election fraud.
"People want justice and truth. Part of that can only be attained if there is an independent inquiry into the election results, and that will need independent sources like the exit poll," said Dan Juma , the acting deputy director of the Kenya Human Rights Commission , a nongovernmental group.
The International Republican Institute's work in Kenya dates to 1992, when it led an international mission to observe the country's first multiparty elections. According to its Web site, the institute sponsors public opinion research— including exit polls- "to help strengthen political and civic institutions" in countries where it works.
For last month's election, the organization sent delegates to monitor more than 100 polling stations. Its officials initially praised voting day as peaceful and orderly, but after the disputed result they issued a statement acknowledging "serious questions about the manner in which the vote tabulation was managed."