DELHI: After years of secret preparation, the world's cheapest car will be unveiled in Delhi this week - delighting millions of Indians as much as it is horrifying environmentalists.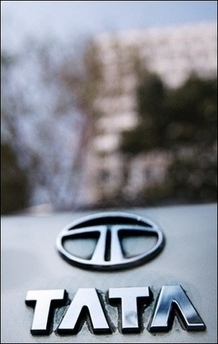 The Tata logo shines on the boot of a car in Mumbai in this undated photo. [Agencies]
At 100,000 rupees ($2,500), the People's Car, designed and manufactured by Tata, is being marketed as a safer way of traveling for those who until now have had to transport their families balanced on the back of their motorbikes.
Ratan Tata, 70, chairman of the family-run business, who has spearheaded the race for a cut-price car, wrote on the company website: "That's what drove me - a man on a two-wheeler with a child standing in front, his wife sitting behind, add to that the wet roads - a family in potential danger."
But Tata hopes also to create a "new market for cars which does not exist", making them accessible to India's booming middle classes made recently rich by an economy growing at around 9 per cent a year. This rapidly expanding market is potentially extremely lucrative; consultants McKinsey predict that the size of the Indian middle class will grow from 50 million now to 583 million by 2025.
Last year just over 1 million cars and 7 million motorbikes were sold in India. Tata wants to transform some of those motorbike buyers into car owners and believes that the company can eventually sell up to a million People's Cars a year. Analysts say the project could revolutionize car prices, not just in India, but globally. Several other manufacturers have similar products in the pipeline.
These figures alarm environmentalists, already concerned by the congestion and rising pollution levels in India's overcrowded cities. The Tata car is expected to sell for a few hundred dollars more than the most popular motorbikes and less than half the price of the current cheapest car on the market, a Maruti 800. Pollution analysts warn that such a drastic cut in prices could have devastating consequences.
Very few people have seen the car, which is being shown to the public for the first time on Thursday, and Tata refused to answer any questions ahead of the unveiling. However, a few details have leaked out.
Like the original people's car, Hitler's Volkswagen Beetle, it has an engine in the boot, four doors, an engine power of 600cc and uses a lot of plastics as well as steel in its body frame. It is being manufactured at a new plant near Kolkata, with an initial capacity of 250,000 cars a year.
Although environmentalists generally favor small cars because they are more fuel-efficient and produce lower emissions, they are concerned by the drive to make car ownership soar to previously unimaginable levels.
"There is this mad rush towards lowering the prices to achieve mass affordability," said Anumita Roychoudhury, of the Centre for Science and Environment in Delhi. "If vehicle ownership increases very rapidly, we'll have a time bomb ticking away. When you lower the price that drastically, how will you be able to meet the safety and emissions standards? There are no clear answers yet."
Automobile analysts are curious to see how safety and environmental regulations will be met at that price. Tata has claimed that the vehicle would be no more polluting than a motorcycle and the launch was delayed to improve emission levels. But Indian emissions standards lag behind European levels, and cars are not subjected to crash impact standards. If the car were to meet Western regulations, its price tag would most probably shoot up.
These concerns are of little interest to millions of Indians who aspire to owning a car. At a gleaming Maruti showroom in south Delhi, manager Vivek Puri said that their sales patter was carefully designed to tap into the desires of the newly rich.
"When people are preparing to get married they want a car. It's a question both of safety and prestige. The way buses are driven in Delhi, it's difficult to save yourself if you're on a bike, but you've got a much higher chance if you're in a car. Status-wise, it's very important too."
On the wall behind him a huge poster showed a young man stroking a shining silver Maruti with the approving slogan: "Now there's a man."
The Guardian