JERUSALEM -- Israel is seriously considering a ceasefire offer made by Hamas delivered by Egyptian mediators, local media reported on Thursday.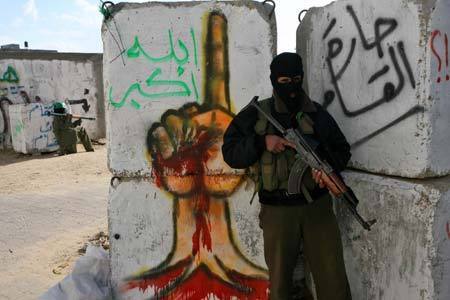 Two Palestinian militants take position during an Israeli army incursion in the central Gaza Strip refugee camp of al-Mughazi, Dec. 20, 2007. [Xinhua]
Hamas proposed to stop all attacks from the Gaza Strip once Israeli army halts its strike against the coastal enclave, Israeli Channel 10 news reported.
The Islamic movement also vowed to force other Gaza terror groups to comply with the eventual deal, which would not apply to the West Bank, Channel 10 said.
Some 10 Israeli officials were purportedly in contact with the group over the offer submitted by Egyptian mediators.
Also on Thursday, Israel Defense Forces (IDF) launched a raid in the central Gaza Strip in an effort to stem the continuing rocket fire at the western Negev, killing at least five Palestinian militants.
An Israeli soldier was seriously wounded in the operation.
The strike came after Israeli Transportation Minister Shaul Mofaz said Wednesday that Israel would accept the "mediation" with Hamas in an effort to stop rocket fire from the Gaza Strip.
On Tuesday, Hamas leader Ismail Haneya told Israeli Channel 2 that he was prepared to negotiate an end to the rocket attacks and Israeli strikes.
Israel has stepped up ground and air operations in the past few days against Islamic Jihad (Holy War). The IDF launched an offensive in Gaza from Monday to Tuesday that left 11 Islamic Jihad and Hamas militants dead.