PARIS -- International donors pledged on Monday to provide US$7.4 billion to support Palestine in the coming three years, a key effort to drive the newly-relaunched Middle East peace process.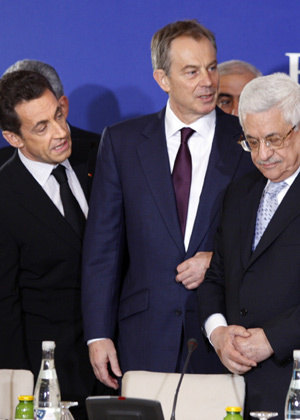 French President Nicolas Sarkozy (L) welcomes former British Minister and and international envoy for the Middle East Tony Blair (C) as Palestinian President Mahmoud Abbas looks on at the start of the international donors conference at Kleber international centre in Paris Dec. 17, 2007. [Xinhua]
"Our goal had been for US$5.6 billion. Now we have US$7. 4 billion," French Foreign Minister Bernard Kouchner told reporters after a one-day conference aimed at mobilizing political and financial support for the emergence of a viable Palestinian state.
Kouchner said the international contribution of US$7.4 billion would be spread over the coming three years. Of the total, US$3.4 billion would be paid in 2008 to the Palestinian government to fill up its huge budget deficit.
The amount exceeded Palestine's expectations. The Palestinian delegation, led by Palestinian President Mahmoud Abbas, had sought US$5.6 billion in aid for the next three years to relieve economic hardship in Palestine, based on a development plan produced by the acting Palestinian government in West Bank.
According to a three-year reform plan presented by Palestinian Prime Minister Salam Fayyad, 70 percent of the sum raised will be first put into budget use, with the remaining for development.
"The real winner today is the Palestinian state," Kouchner said.
France, as the host, announced during the conference that it will contribute just over 200 million euros (US$300 million) in an effort to lead the aid drive, while Britain and Germany were ready to provide US$500 million and 200 euros (US$289 million) respectively.
In addition to member states, the European Union (EU), which co- chaired the conference, pledged 440 million euros (US$650 million) to the Palestinian people for 2008.
The EU is the largest single donor to Palestine. In 2007, the European Commission provided 550 million euros in assistance which together with the member states contributions amounted a total EU aid of one billion euros.
EU External Relations Commissioner Benita Ferrero-Waldner said Monday further large amount of aid could be available in 2009 and 2010.
Norway, the third co-chair of the conference, pledged US$140 million a year for the next three years.
The United States has said it is pledging about US$555 million for 2008, which includes around US$400 million the White House announced but has not been approved by the US congress.
Saudi Arabia agreed to pay US$500 million over three years, and two other Arab countries, namely United Arab Emirates and Kuwait, will provide US$300 million each.