"Loveline" host Dr. Drew Pinsky, an addiction-medicine specialist, said in a recent interview with Us Weekly that pop singer Britney Spears "is a drug addict."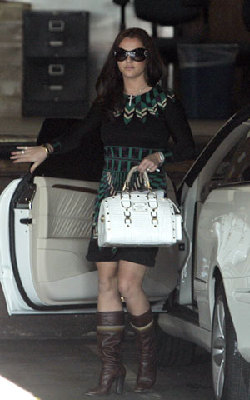 Britney Spears exits her Mercedes Benz as she arrives for a child custody hearing with her ex-husband regarding her two sons in Los Angeles, California Oct. 26, 2007. [Xinhua]
"(Britney) is a drug addict," Dr. Drew insisted. "It is an indisputable point."
To support his claim, he told Us, "We know that she is a drug addict because she's been admitted to a treatment center. You can't be admitted unless you've met criteria for addiction."
When asked if Spears' problems could be the result of attaining fame and fortune at an early age, Drew wouldn't play the blame game.
"Her mental health has almost nothing to do with her career," he said. But he does think her mega-stardom makes it harder to help her.
"Fame hinders getting to (Spears) now. It is hard to get through the sycophants who are enabling her and be able to find people around Britney who are willing to potentially sacrifice either their salary or their access to her by bringing her into treatment. That's the core problem. That is what is putting her in danger. That is what killed Anna Nicole Smith. She had people around her who didn't step up and say you need to get treatment!"
Drew is not pessimistic about Spears' chances of recovery, only about her motivation.
"She can get better, she just doesn't want to," he said.