VIENNA, Austria -- Iran on Monday offered some cooperation with an International Atomic Energy Agency probe of an alleged secret uranium processing project linked by US intelligence to a nuclear arms program.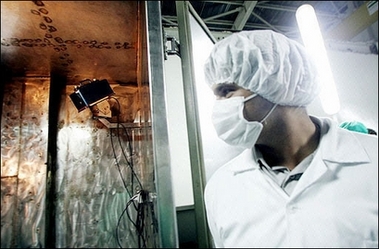 An Iranian technician looks at a camera installed by the International Atomic Energy Agency, at the Isfahan Uranium Conversion Facilities (UCF), 420 kms south of Tehran, in 2005. Iran has cleared up questions from the UN atomic agency about its plutonium experiments, Iran said Monday as it made public a timetable to allay concerns that it seeks nuclear weapons. [AFP]
The Iranian pledge was contained in a memorandum reached between Iran and the IAEA and published on the agency's Web site at the request of Tehran's mission to the agency. In it, Tehran also outlined its timetable for providing other sensitive information sought by the IAEA in its probe of more than two decades of nuclear activity by the Islamic republic, most of it clandestine until revealed more than four years ago.
The document reiterated Iran's allegations that the search for information on the so-called "Green Salt Project" was "politically motivated" and founded on "baseless allegations."
But as a "sign of good will and cooperation with the agency ... Iran will review" documentation on the project provided by the agency "and inform the agency of its assessment," according to the memorandum
There was no official comment from the IAEA.
Less than a week ago, Iran and the Vienna-based IAEA announced an agreement on the timetable for full Iranian cooperation with the agency's nuclear investigation. It is only one of the demands set by the UN Security Council in attempts to dispel suspicions that Iranian claims it wants to develop a full nuclear cycle for generating power is merely a cover for a covert weapons program.
But of most concern to the council are activities that could lead directly to the making of nuclear weapons. Tehran has defied demands to stop developing its uranium enrichment program, which can produce fuel and the core of warheads, and mothball construction of a plutonium-producing reactor which, once completed, can also make weapons material, leading to two sets of council sanctions.
Public mention of the "Green Salt Project" first surfaced in an IAEA report drawn up last year.
The report voiced concern that under the "Green Salt Project," conversion of uranium - a precursor of enrichment - was linked to suspected tests of "high explosives and the design of a missile re-entry vehicle, all of which could have a military nuclear dimension."