HYDERABAD - Foreign-based Islamic extremists may have been behind a pair of bombings that tore through a popular restaurant and a park in this southern Indian city, killing at least 42 people, an Indian official said Sunday.
Saturday's attacks were the latest in a series of bombings to hit India in the last year, and nearly all have been blamed on Islamic extremists with foreign connections even when Muslims were targeted.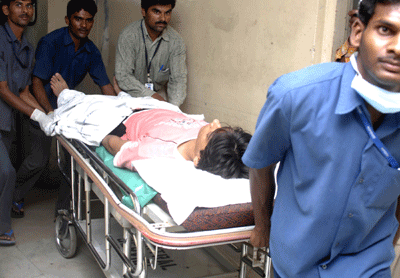 Medics move a person injured in a bomb blast on a stretcher, at a hospital in Lumbini Park in the southern Indian city of Hyderabad August 25, 2007.
[Reuters] 
"Available information points to the involvement of terrorist organizations based in Bangladesh and Pakistan," Y.S. Rajasekhara Reddy, the chief minister of Andhra Pradesh state, where Hyderabad is located, told reporters after an emergency state Cabinet meeting.
Reddy did not name any groups, but Indian media reports, quoting unnamed security officials, identified the Bangladesh-based Harkatul Jihad Al-Islami organization.
Reddy declined to provide more details. "It is not possible to divulge all this information," he said.
Harkatul, which is banned in Bangladesh, wants to establish strict Islamic rule in the Muslim-majority nation governed by secular laws.
Bangladesh's Foreign Ministry said Dhaka had not been informed of the allegations.
A spate of other bombings in India have been blamed on Pakistan-based Lashkar-e-Tayyaba, or Army of the Pure, one of more than a dozen Islamic insurgent groups fighting to oust India from Muslim-majority Kashmir. Pakistan has denied charges of training and supporting the militants.
Kashmir is divided between predominantly Hindu India and mostly Muslim Pakistan, with both claiming it in its entirety. The rebels want Kashmir's independence or merger with Pakistan.
Indian authorities say Harkatul was also behind the bombing of a historic Hyderabad mosque in May that killed 11 people, although little evidence linking the group to the blasts has been made public. But many Muslims say Hindu extremists were to blame.
Following that attack, five people were killed in clashes between security forces and Muslim protesters, angered by what they said was a lack of police protection.