WASHINGTON -- US troop levels in Iraq have hit an all-time high with overlapping unit rotations pushing the total number up to nearly 162,000, the Pentagon said on Tuesday.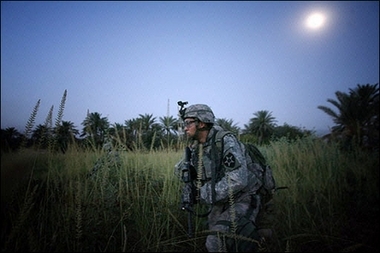 A US soldier from the Bronco Troop, 1st squadron, 14th Cavalry conducts a night patrol with three platoons in the village of Sweb, south of Baquba, 02 August 2007. US troop levels in Iraq have hit an all-time high with overlapping unit rotations pushing the total number up to nearly 162,000, the Pentagon said on Tuesday. [AFP]


Pentagon spokesman Bryan Whitman said the previous high in the more than four-year-old war was about 161,000 troops in January 2005 when national elections were held for the first time.
But Whitman, who put the current number of US troops at "nearly 162,000," said the latest hike was not a move to further beef up the "surge" force that has been deployed to Iraq over the course of the year to halt a slide toward civil war.
"There is no change to the level effort and combat power that we are projecting into Iraq. The 20 combat brigade and the associated combat services and combat support that are required to sustain that level remains constant," he said.
"What has changed today with the numbers spiking a little bit is due to just the normal flow of forces in and out," he said.
The 2nd Stryker Cavalry Regiment from Vilseck, Germany and a combat aviation brigade are deploying into Iraq, while two combat aviation brigades are on their way out, the Pentagon said.
Whitman said a combat brigade plus support units are rotating into and out of Iraq in any given month.
The movements typically overlap by a couple of weeks so that arriving units have time to learn the ropes from departing units and ease into their new roles.
US commanders are nearing a key decision point, however, over whether and how long to sustain the higher level of forces.
General David Petraeus, the US commander in Iraq, and US Ambassador to Iraq Ryan Crocker are supposed to deliver their assessment to Congress by mid-September.
The US buildup, which began in February and peaked in June, added five combat brigades and other support units to the US ground force in Iraq after an Iraqi-led operation failed to secure Baghdad.
The idea has been to put a lid on sectarian violence to give Iraqi leaders time to get national reconciliation efforts going.
But the main Sunni block last week walked away from the "national unity" government led by Prime Minister Nuri al-Maliki and four more cabinet members from a non sectarian party joined them Monday. The parliament recessed for vacation last week without passing any legislation to further reconciliation goals.
US commanders now say it will take at least a couple more years for the Iraqi security forces to be capable of taking over from US troops.
Meanwhile, insurgents continue to inflict casualties on US troops.
The US military on Tuesday reported the deaths of four more US soldiers, raising the US death toll to 3,674. At least 19 US troops have been killed so far this month.
Three of the soldiers died Saturday in a roadside bombing of convoy south of Baghdad, and the fourth was killed Monday by an armor piercing bomb that US officials say are being supplied from Iran.
On Sunday, US Defense Secretary Robert Gates said the United States envisions a long term residual US military presence in Iraq after a drawdown of US troops.
Gates would say only that a reduction of US troops this year was "a possibility."
The extended deployments, meanwhile, have severely strained the US military and analysts say the surge cannot be sustained beyond April without either extending tours of duty or calling up brigades that have been home less than a year.