Talks to free 21 South Koreans kidnapped by Taliban insurgents in Afghanistan were deadlocked on Monday, with still no agreement on where face-to-face negotiations might take place.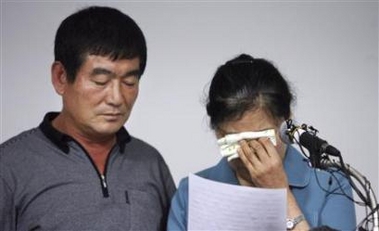 Seo Jeong-bae (L) and Lee Hyeon-ja, the parents of Korean hostages Seo Kyeong-suk and Seo Myeong-hwa, react as they read a letter for their children kidnapped by the Taliban during a news conference in Seongnam, south of Seoul August 5, 2007. [Reuters]


The Taliban have killed two of the hostages and have repeatedly threatened to kill the remaining 18 women and three men unless the Afghan government agrees to free jailed rebels.

Afghanistan has refused to release Taliban prisoners, saying that would encourage a kidnapping "industry."

"We will not do anything that will encourage hostage-taking, that will encourage terrorism. But we will do everything else to have them released," Afghan President Hamid Karzai told CNN ahead of a visit to the United States where he is holding two days of security talks with US President George W. Bush.

South Korea has proposed holding face-to-face talks with the Taliban as a way of breaking the impasse, but a new apparent deadlock over where to hold the talks has emerged.

Taliban kidnappers have demanded the meeting take place in territory they control or under a United Nations guarantee for their safety if held elsewhere. But after four days of talks on where to hold negotiations, there were few signs of progress.

"Discussions are going on as to where they can meet," said Merajuddin Pattan, the governor of the province of Ghazni, southwest of Kabul, where the Koreans were seized on July 20.

"We are trying to find a solution. Contacts between the Taliban and the Korean ambassador are going on over the phone," he said.

The Taliban said on Monday they were still waiting for the Koreans to reply to their conditions over a venue.

A UN spokesman said the international body had not received any request from the Taliban to supervise or guarantee talks.

First Contact

South Korean officials meanwhile made their first contact with one of the hostages, an official in Seoul said on Monday.

"There was a telephone conversation with one hostage Saturday afternoon," said a South Korean official on condition of anonymity. The official declined to give further details, citing a potential risk to the safety of the hostages in Afghanistan.

The South Korean government is under intense domestic pressure to secure the release of the hostages, but Seoul has told the insurgents there is a limit to what it can do as it has no power to free prisoners in Afghan jails.

Afghan doctors delivered medicine for the hostages on Sunday, dropping them at a pre-arranged spot in a desert area of Qarabagh district in Ghazni province.

One of the women hostages, Lim Hyun-joo, a 32-year-old nurse, pleaded for help from UN Secretary General Ban Ki-moon, himself a South Korean.

"We are innocent people. We came here to help the people, but now we are all sick ... Dear Mr General Secretary Ban Ki-moon please save us ... We don't want to die," she told Voice of America radio.

A day before the Koreans were seized, Taliban rebels in Wardak province, north of Ghazni, kidnapped two German engineers and five Afghans.

One of the Germans suffered a heart attack and was shot dead and one of the Afghans managed to escape. The rest are being held by the Taliban who are demanding Berlin withdraw its 3,000 troops from Afghanistan. Germany refused to do so.