LOS ANGELES - Massive dogs belonging to "Mission: Impossible" star Ving Rhames attacked and killed a live-in caretaker at the actor's Los Angeles home on Friday, police said.

The caretaker, whose name was not released by authorities, was found dead on the front lawn of Rhames' gated home in an expensive Brentwood neighborhood, covered in dog bites, a Los Angeles police spokesman said.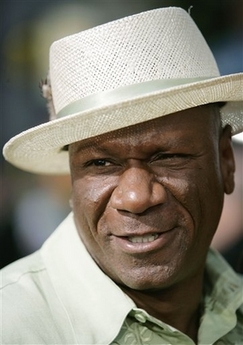 Ving Rhames arrives at a film premiere in Los Angeles on Thursday, July 12, 2007. A 40-year-old man was mauled to death by as many as four dogs at Rhames' Los Angeles home on Friday, Aug. 3, 2007, authorities said.[AP]
Several large dogs were running loose on the property when police responded to the scene shortly after 7:15 a.m. (1415 GMT) and animal control officers took three huge bull mastiffs and an English bulldog into custody.
"It appeared that the person suffered a number of injuries as a result of the dog mauling," Sgt. Lee Sands said. "There were numerous dog bites all over his body, but the exact cause of death is pending the coroner's ruling."
Sands said four dogs, the largest weighing nearly 200 pounds (90 kg), were being quarantined as part of an investigation into the attack.
He said it was not yet clear how many of the dogs had taken part in the mauling or why they had turned on the caretaker. The victim, who worked for Rhames for two years and lived on the property, was pronounced dead at the scene.
Television pictures showed the body being removed from the scene, covered in a blanket. Neighbors said that they had never seen signs of aggression from the dogs.
Representatives for Rhames, who is out of the country shooting a film, had no immediate comment. The 46-year-old actor is best-known for starring alongside Tom Cruise in all three "Mission: Impossible" films.
Rhames has a long list of film and television credits winning a Golden Globe and Emmy nomination for starring as Don King in a 1997 TV movie about the flamboyant boxing promoter.
The actor discussed dogs during a 1999 interview with the Los Angeles Times, describing a 1-year-old Fila Brasileiro (Brazilian Mastiff) he owned at the time as having been bred to guard slaves.
"It was the only dog they found that had the temperament to guard a slave," Rhames said in the interview. "It could be around you every day, but if you tried to run away..."