Oakland - The outspoken new editor of the Oakland Post was shot to death Thursday near a downtown courthouse in what police suspect was a deliberate hit.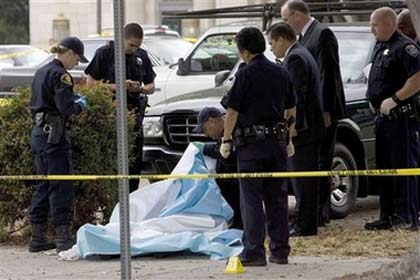 Oakland (Calif.) police officers investigate the scene where Oakland Post editor Chauncey Bailey was shot to death in Oakland, Calif., Thursday, Aug. 2, 2007. [AP]


Chauncey Bailey, 57, was killed around 7:30 am, Oakland Police spokesman Roland Holmgren said. Witnesses told police a man wearing a mask shot Bailey multiple times and then fled.
Police had no motive for the killing but said it did not appear to be random. Holmgren said investigators would look into any possible connections with Bailey's work.
"All of those possibilities will have to be definitely explored and explored thoroughly," Holmgren said.
"I've spoken with him several times," he added. "I know him as being a somewhat outspoken type individual, assertive in his journalistic approach when trying to get at matters at hand."
Bailey was shot multiple times in daylight near the county courthouse, Holmgren said. Witnesses are cooperating in the investigation but there are no suspects yet, police said.
Holmgren said the weapon used was not a handgun, but he would not disclose the gun's caliber.
Bailey was a familiar fixture on the local news scene. He was a reporter for The Oakland Tribune for more than a decade before June when he was named editor of the Post, a weekly newspaper geared toward the Bay Area black community.
Bailey grew up in Oakland and worked with several area media outlets, including KDIA radio and Soul Beat TV, a local cable channel. Before that, he worked for 10 years at the Detroit News.
Oakland Mayor Ron Dellums said Bailey will be missed.
"It is a tragedy when any person loses his or her life by an act of violence. The crime and violence on Oakland streets presents me with the most painful and difficult challenge I've ever faced," Dellums said in a statement.
Oakland Tribune managing editor Martin G. Reynolds called Bailey "a friend, a valued colleague and a loving father" whose coverage of Oakland's black community was "a tremendous asset." His death "has left all of us at the Oakland Tribune shocked and deeply saddened," Reynolds said.
At the Oakland Post, Gwendolyn Carter, the paper's advertising manager, said the staff of about 10 was shocked by Bailey's death.
"He was a good man," Carter said. "He always took care of me. He would say I was his little sister and he was my big brother."
Police and Crime Stoppers of Oakland offered up to $10,000 in reward money for information leading to the gunman's arrest.