BAGHDAD - A suicide car bomber slammed into an Iraqi police station northeast of Baghdad on Thursday, killing at least 13 people, police said.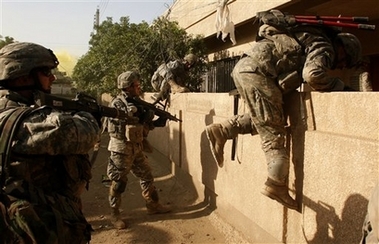 US Army soldiers from Bravo Company, 1st Battalion, 5th Cavalry Regiment, 2nd Brigade, 1st Cavalry Division climb a wall to search a house for possible al-Qaida suspects in the Amariyah neighborhood of west Baghdad, Iraq on Wednesday, Aug. 1, 2007. [AP]
Most of the victims were policemen and recruits lining up outside the station in Hibhib, the same small Sunni town near Baqouba where al-Qaida in Iraq leader Abu Musab al-Zarqawi was killed in a US airstrike more than a year ago. The area is considered a stronghold of both al-Qaida-linked militants and Saddam Hussein loyalists.
Fifteen others were wounded in the attack, a police officer said on condition of anonymity because of security concerns.
The US military announced three more soldier deaths: two killed in a mortar or rocket attack Tuesday, and another killed by a roadside bomb Wednesday.
At least 3,659 US military personnel have died since the beginning of the Iraq war in March 2003, according to an Associated Press count. The figure includes seven military civilians.
Meanwhile, Prime Minister Nouri al-Maliki's party asked the country's largest Sunni Arab bloc to reconsider its withdrawal from the Cabinet in a last-ditch effort to restore the national unity government.
All six Cabinet ministers from the Iraqi Accordance Front quit the government on Wednesday to protest against what they called the prime minister's failure to respond to a set of demands.
Among them were the release of security detainees not charged with specific crimes, the disbanding of militias and the participation of all groups represented in the government in dealing with security issues.
Their resignation left only two Sunnis in the 40-member Cabinet, undermining efforts to pull together rival factions and pass reconciliation laws the US considers crucial to heal the country's deep war wounds.