ISLAMABAD - Pakistani President Pervez Musharraf may hang up his army uniform to pave the way for a pact with former prime minister Benazir Bhutto after the pair met in Abu Dhabi, a minister said Monday.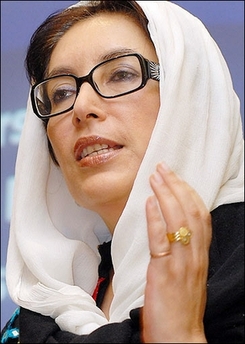 Pakistani President Pervez Musharraf may hang up his army uniform to pave the way for a pact with former prime minister Benazir Bhutto, pictured 20 July 2007, after the pair met in Abu Dhabi, a minister said Monday.[AFP]


Military ruler Musharraf and Bhutto held secret talks in the Gulf emirate on Friday on a pre-election power-sharing deal, but reached no agreement on two key issues, Parliamentary Affairs Minister Sher Afgan Niazi told AFP.
The sticking points were the issue of Musharraf's dual role as president and head of Pakistan's powerful army and a bar that prevents Bhutto having a third term as premier, Niazi said.
Bhutto, who has lived in self-imposed exile in London and Dubai since 1998 due to corruption allegations against her, insisted Sunday she would not strike a deal with Musharraf so long as he remained army chief.
"The two met in Abu Dhabi on Friday to hammer out a political understanding so that moderate forces can join hands to defeat extremists in the coming general elections," Niazi said.
General elections are due by early 2008. Officials have said Musharraf aims to be re-elected separately by parliament as president-in-uniform, ahead of a constitutional deadline for him to quit the army by the end of this year.
But Niazi said he believed that Musharraf "would be willing to shed his uniform if he has the PPP (Bhutto's Pakistan People's Party) and the ruling Pakistan Muslim League behind him."
The secret Bhutto-Musharraf meeting has still not been officially confirmed by their spokesmen.
The talks come as Musharraf faces trouble on all sides, from a wave of Islamist attacks sparked by the army's storming of a radical Islamabad mosque to a bruising legal defeat by the country's chief justice.
Bhutto, who served as prime minister from 1988 to 1990 and again from 1993 to 1996, told Sky News on Sunday that she would probably return from exile to stand in Pakistan's next general election.
However the 54-year-old could be jailed on the corruption charges that she still faces upon re-entering Pakistan.
Niazi, a former Bhutto ally who left the PPP after the last general elections in 2002, said that if the two agreed on a deal, the constitution could be amended to allow prime ministers to serve a third term.
The ban was inserted into the constitution by Musharraf in 2003, with support from an alliance of hardline Islamist parties which have since turned against him.
The amendment was aimed at preventing Bhutto and former prime minister Nawaz Sharif -- whom Musharraf ousted in a bloodless coup in 1999 -- from taking office a third time as both have ruled the country twice.
"An alliance between Bhutto and Musharraf is a necessity in the prevailing situation, it is also the desire of the international community, particularly the United States and Britain," Niazi said.
Musharraf was meeting with his current allies, the ruling Pakistan Muslim League, on Monday to brief them on his talks with Bhutto, officials said on condition of anonymity.
Railways Minister Sheikh Rashid, who is known to be close to the president, said Musharraf would be re-elected as president-cum-army chief sometime between September 15 and the middle of October.
"He will quit his military uniform at his own sweet will," the minister added.
Bhutto's contacts with the president have drawn severe criticism from other opposition parties which are accusing her of trying to shore up Musharraf's regime.
Sharif, who also lives in exile, has reminded Bhutto of a pledge she made in a pro-democratic charter they both signed last year against any dealing with the military ruler.
Islamist leader Maulana Fazlur Rehman also criticised Bhutto and said any deal with Musharraf would be contrary to Pakistan's national interests.
Meanwhile the Supreme Court is to begin hearing a challenge to Musharraf's military role, officials said Monday.
The legal appeal filed by Qazi Hussain Ahmad, leader of Pakistan's main alliance of hardline Islamic parties, says Musharraf should give up his post as army chief next month, court officials said.