GHAZNI, Afghanistan - Taliban kidnappers will kill their remaining 22 South Korean hostages unless the government releases eight rebel prisoners by noon (0730 GMT / 3:30 a.m. EDT) on Friday, a spokesman said.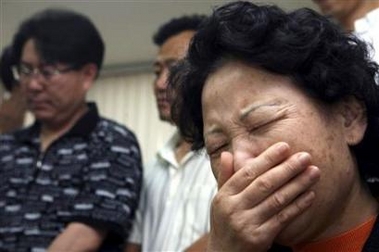 One of the family members of kidnapped South Koreans in Afghanistan cries during a news conference asking for the safe return of the hostages, in Seoul, July 26, 2007. [Reuters]


The Taliban have already killed the leader of the 23 Korean Christian volunteers they snatched from a bus on the main highway south of the capital Kabul last week, but several previous deadlines have passed without them carrying out their threats.

The Taliban spokesman said Afghan authorities had asked for more time after the insurgents presented the government with a list of eight prisoners it wanted released.

"The administration of Kabul has asked us to give them till 12 noon today," spokesman Qari Mohammad Yousuf told Reuters by telephone from an unknown location.

"We are waiting for them. We have given them a list of eight prisoners and if they are not released we won't have any other option than to start killing the hostages."

South Korean chief presidential national security advisor, Baek Jong-chun, is expected to arrive in Afghanistan later on Friday to step up efforts to free the hostages.

In a first known contact with the outside, a South Korean woman hostage pleaded for help and a speedy release of all the hostages in a telephone interview with CBS News.

The weeping voice, which spoke in Korean and Dari, was believed to be that of Yoo Hyun-joo, a 32-year-old nurse.

"We are held here in very difficult conditions every day," Yoo spoke in Korean in a recording of the interview posted on CBS News Web site. "Please help us so that we can come out as soon as possible."

Yoo's brother said he could immediately recognize her voice, South Korea's Yon hap news agency said.

Afghan President Humid Kara has pledged not to swap prisoners for hostages after being criticized for releasing five Taliban from jail in March in exchange for an Italian reporter.

The president and ministers have remained silent throughout the latest hostage ordeal.

One German and four Afghans snatched separately are also still being held hostage by the Taliban.

The past 18 months has seen rising violence in Afghanistan, with daily clashes between Taliban insurgents and Afghan and foreign troops.