KANDAHAR, Afghanistan - A purported Taliban spokesman said that negotiations for the lives of 23 South Korean hostages had stalled and that militants would kill the aid workers Monday evening if the government doesn't free Taliban prisoners.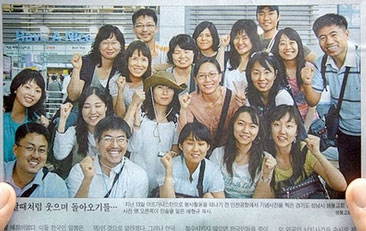 A man holds the South Korean newspaper Chosun Ilbo which displays on their front page an image of a group of South Korean Christians posing for a commemorative photograph before leaving for Afghanistan on 13 July. [AFP]


An Afghan lawmaker said the militants had upped their demands Monday, saying they wanted all insurgent prisoners in Ghazni province released in exchange for the Koreans, though Qari Yousef Ahmadi, who claims to speak for the militia, denied that was true.
Khail Mohammad Husseini, a lawmaker from Ghazni province, where the Koreans are being held, said a delegation of provincial leaders tried to meet with the kidnappers Monday but that the militants didn't show. He said the Taliban increased their demands by telephone, saying all militant prisoners in Ghazni had to be released.
Ahmadi said militants were still demanding the release of 23 Taliban prisoners but said the government hadn't signaled it was willing to do that.
"If the government won't accept these conditions, then it's difficult for the Taliban to provide security for these hostages, to provide health facilities and food," Ahmadi told The Associated Press by satellite phone. "The Taliban won't have any option but to kill the hostages."
The deputy interior minister, Abdul Khaliq, meanwhile, said Afghanistan was not prepared to make a deal "against our national interest and our constitution," though he did not explicitly rule out freeing any prisoners.
Afghan President Hamid Karzai in March authorized the release of five Taliban prisoners in exchange for a kidnapped Italian reporter, but he called the trade a one-time deal. Karzai also was criticized by the United States and European nations who felt that trade would encourage more kidnappings.
Ahmadi said Sunday that the militants were giving the Afghan and South Korean governments until 10:30 pm Beijing time Monday to respond to their demands.

| | | |
| --- | --- | --- |
| 1 | 2 | |