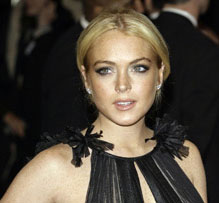 Lindsay Lohan

Beverly Hills -- Lindsay Lohan turned herself in to face charges of driving under the influence in connection with the Memorial Day weekend hit-and-run crash that sent her into rehab.

Lindsay Lohan was fingerprinted and photographed and released on her own recognizance.

Accompanied by her attorney, the 21-year-old actress surrendered at the Beverly Hills Police Department Thursday afternoon to be fingerprinted and photographed, Officer Brian Ballieweg said.

Lohan's blood-alcohol level at the time of the crash was above California's 0.08 percent legal limit, Ballieweg said. He wouldn't disclose how high it was. She also faces a misdemeanor charge of hit and run, he said.

Lohan was released on her recognizance. A court date was scheduled for August 24.

A message left early Friday with her publicist was not immediately returned.

Don't Miss
Lohan out of rehab, 'working hard on sobriety'
Lohan and two other adults were in her 2005 Mercedes SL-65 convertible when she lost control and crashed into a curb and shrubs on Sunset Boulevard on May 26, police said.

Lohan got into a second car and was driven to a hospital in Century City for minor injuries, police said. The others in her car were not hurt.

Officers received a 911 call about the accident and traced her to the hospital.

Last week, Lohan checked out of a rehabilitation center after more than six weeks. It was her second stint in rehab this year. She said in January she had checked into rehab for substance abuse treatment.

The surrender was first reported by TV's "The Insider."