Brazil's firemen on Saturday found the black box containing the pilots' voice recording in the wreckage of the TAM airlines plane that crashed in Sao Paulo last Tuesday, Brazil's Air Force said Saturday.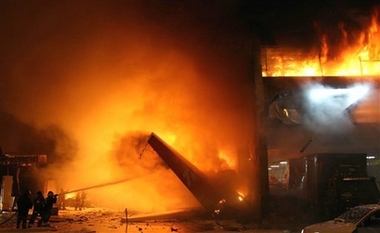 Firefighters try to extinguish a fire at the site where a TAM airlines commercial jet crashed in Sao Paulo, Tuesday, July 17, 2007. The plane with 176 people aboard crashed and burst into flames in Sao Paulo after skidding off a runway that has been criticized as being too short in a driving rain, the nation's airport authority said. [AP]


Brazilian authorities had already sent what they thought were the flight's two black boxes to Washington for analysis. But a statement from the Air Force said one of them turned out to be a simple tape recorder and not the flight voice recorder.

The error was due to major damage sustained by the equipment as a result of the crash and subsequent fire, it said.

The July 17 crash was the deadliest in Brazil's aviation history, when a TAM airlines Airbus A320 crashed into a fuel station and exploded on landing at the Congonhas airport, killing nearly 200 people, including 187 aboard and at least four others on the ground.