The Supreme Court on Friday reinstated Pakistan's top judge, ruling that his suspension by President Gen. Pervez Musharraf was illegal and dealing a major blow to the authority of the staunch U.S. ally.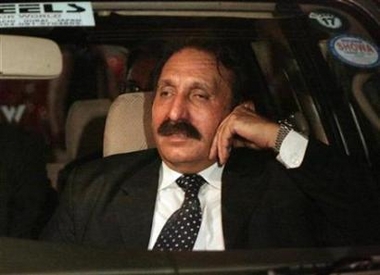 Suspended Pakistani Chief Justice Iftikhar Chaudhry sits in a car as he arrives to address lawyers at The Islamabad Bar Association in Islamabad, July 17, 2007. [Reuters]


The ruling to reinstate Chief Justice Iftikhar Mohammed Chaudhry is probably the biggest challenge to Musharraf's dominance since he seized power in a coup in 1999. It could further complicate his bid to win a new five-year presidential term this fall and comes at a time when Islamic militants are on the offensive.
Lawyers celebrated outside the court, chanting "Go, Musharraf, go!" The verdict also prompted celebrations among gatherings of hundreds of lawyers in major cities, including Karachi, Multan, Faisalabad, Quetta, Peshawar and Rawalpindi.
"Thank God, we got justice," said Ahsan Bhund, president of the Lahore High Court Bar Association, as he marched on a main city road with 500 other lawyers.
In a brief statement, a spokesman for Musharraf said he accepted the ruling by presiding Justice Khalil-ur-Rehman Ramday that the president's order suspending Chaudhry was "set aside as being illegal."
"The president respects the decision of the Supreme Court," Musharraf's spokesman, Rashid Qureshi, was quoted as saying by state-run Associated Press of Pakistan. "The president has stated earlier that any judgment the Supreme Court arrives at will be honored, respected and adhered to."
Exiled former Prime Minister Benazir Bhutto declared it to be one of the most remarkable judgments in the history of Pakistan's judiciary.
The movement in support of Chaudhry had "turned into struggle against dictatorship, (for the) restoration of the Constitution and for supremacy of the Parliament," she said in a statement.
At the State Department, deputy spokesman Tom Casey said the reinistatement was in keeping with constitutional procedures and "respects the rule of law."
He also praised the fact the court is "capable of making independent decisions."
Chaudhry's March 9 suspension had sparked protests by lawyers and opposition parties that have grown into a powerful pro-democracy movement just as Musharraf faces a rising tide of Islamic militancy.
The lawyers swarmed around the justice's chief counsel, Aitzaz Ahsan, as he told reporters that the case alleging misconduct by Chaudhry had been "quashed."
"He has been restored and it is a victory for the entire nation," Ahsan said.
Prime Minister Shaukat Aziz said he accepted the ruling and appealed for national unity as Pakistan moves toward elections.
"I would like to emphasize that we must all accept the verdict with grace and dignity reflective of a mature nation. This is not the time to claim victory or defeat. The Constitution and the law have prevailed and must prevail at all times," he was quoted as saying by the state-run Associated Press of Pakistan.
A top Pakistani human rights activists declared the verdict as an assertion of the independence of the judiciary and a victory for civil society.
"It's very clear that guns and intimidation will not bow down civil society or civil institutions of Pakistan," said Asma Jehangir, chair of the nongovernment Human Rights Commission of Pakistan.
Musharraf suspended Chaudhry for allegedly pulling rank to secure a police job for his son and enjoying unwarranted privileges such as the use of government aircraft.
The government insists the case has no political motive and that Musharraf had little choice under the constitution but to suspend Chaudhry.
However, opponents accuse Musharraf of plotting to remove an independent-minded judge to forestall legal challenges to his plan to ask lawmakers for another term.
The assertion of judicial independence in a country long dominated by its military will likely be widely viewed as an important step toward democracy in Pakistan, but the setback for Musharraf casts new uncertainty over the political future of this key ally of the West in fighting terrorism.
Aziz said the coming months "hold the key to a democratic, economically vibrant and an Islamic Pakistan."
"We must all unite against the current wave of extremism and militancy," he said.
Since suspending Chaudhry, Musharraf's support has been crumbling both among voters and his political allies, particularly after he came out in support of a pro-government party widely believed to be behind violent clashes against Chaudhry supporters in Karachi in May that killed over 40 people.
However, more recently, Pakistan's deteriorating security situation has overshadowed the judicial crisis. Suicide attacks, bombings and fighting between security forces and Islamic militants has killed about 290 people since clashes between the army and radicals in Islamabad's Red Mosque broke out July 3.
The violence has also hit the protest movement surrounding the chief justice. On Tuesday, a suicide bomber killed 18 people at a rally of Chaudhry's supporters in the capital.
In the latest violence, clashes broke out Friday between Pakistani troops and militants in North Waziristan after a suicide car bomber hit a security checkpoint, killing four people, officials said.
The attack on the outskirts of the main town of Miran Shah, which killed a soldier and three male civilians, came hours after a 45-member delegation of tribal elders began talks with pro-Taliban militant leaders to resurrect a controversial peace deal and stem spiraling violence.
The latest attack comes a day after three suicide bombings killed at least 51 people.
As the tribal elders were meeting with militant leaders in Miran Shah, a man detonated the car bomb when asked to stop at a checkpoint, according to two local security officials.
The officials, who spoke on condition of anonymity because they were not authorized to speak to journalists, said security forces backed by a helicopter gunship raided an alleged militant hide-out, triggering a shootout. It was not immediately clear whether the militants suffered casualties.
Violence has spread from Pakistan's tribal areas to the capital and elsewhere since last week when militants abandoned a 2006 peace deal they signed with the government to stop attacks on troops and officials.
The militants ended the agreement after the army's bloody assault on Islamabad's Red Mosque last week.
On Friday, tribal elder Malik Nasrullah told The Associated Press before entering talks with militant leaders he was "optimistic" the peace deal with the government could be revived.
"We will meet with them to request that they reverse their decision to end the peace agreement," said Nasrullah.
The government has attached high hopes to the success of the peace talks despite criticism from the United States that it has allowed more freedom for al-Qaida to base itself at the frontier.
The meeting came a day after a suicide bomber driving a car hit a convoy carrying Chinese workers, killing 29 Pakistani bystanders and police, and prompting Musharraf to call for national unity against extremists.
Thursday's attack targeting a minibus carrying about 10 Chinese technicians occurred as their convoy was passing through the main bazaar in Hub, a town in Baluchistan province near the southern port city of Karachi.
Later Thursday, a suicide attacker detonated a bomb at a mosque in an army cantonment in the northwestern town of Kohat, killing at least 15 people, officials said.
Also Thursday, a suicide car bomber detonated his explosives when guards prevented him from entering the parade ground of a police academy in another northwestern town, Hangu. Six bystanders and one policeman died.