N.Korea talks end without deadline
(AP)
Updated: 2007-07-20 13:32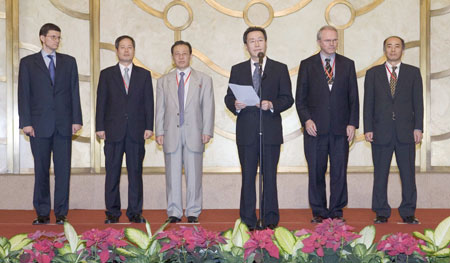 Russia's Ambassador of the Ministry of Foreign Affairs Vladimir Rakhmanin (L), South Korean special representative Chun Yung-woo (2nd L), North Korea's vice minister of Foreign Affairs Kim Gye Gwan (3rd L), China's vice minister of Foreign Affairs Wu Dawei (3rd R), chief U.S. negotiator Christopher Hill (2nd R) and apanese chief negotiator Kenichiro Sasa shake hands during the closing speech at the end of the six-party talks in Beijing July 20, 2007. [Reuters]


Talks on how to end North Korea's nuclear weapons programme wound up on Friday without setting any deadline, with the focus now turning to technical details and working groups before new negotiations in September.

Delegates from the two Koreas, United States, Japan, Russia and China met for three days in Beijing and the chief U.S. envoy said he still hoped a second disarmament phase could be completed this year.

"I'm still of the view that with a little luck we can wrap this all up by the end of the year, but obviously it's going to be difficult," Assistant Secretary of State Christopher Hill told reporters before leaving Beijing.

He said the important issue was not an exact month, but "that we continue to make perceptible progress".
Chinese envoy Wu Dawei said the working groups would meet before the end of August to discuss how to press forward a disarmament deal, phase one of which was North Korea's shutting down of its Yongbyon nuclear facility, north of Pyongyang.

Phase two is North Korea's full declaration of its nuclear secrets and and the disabling of Yongbyon.
In September, fresh six-way talks would "work out the road map" for implementing disarmament steps, Wu said.

The six countries' foreign ministers would then meet "as soon as possible" to affirm the deal and explore ways of improving regional security, he said.

North Korea remained committed to winding down its nuclear activities, Wu said.

No Timetable

But chief Japanese delegate Kenichiro Sasae said there had been no agreement on what should be included in North Korea's declaration or on ways to deal with disabling nuclear facilities.

"There was a participating nation which held a strong view that it could not set a time frame now for denuclearisation," Sasae told reporters, without naming the country.

"It is true that there were conflicts over basic points."

Now contention will shift to the expert groups dealing with energy aid, disarmament technicalities and Pyongyang's stormy relations with the United States and Japan.

"Ultimately we decided not to put in deadlines yet," Hill said earlier. "We'll put in deadlines when we have the working groups and we know precisely what we are talking about."

The International Atomic Energy Agency says North Korea has shut five main nuclear facilities at Yongbyon, completing the first stage of a deal reached in February.

The facilities include a reactor and an atomic fuel reprocessing plant that can extract the plutonium Pyongyang used for its first nuclear test blast last October.

Pyongyang quit the nuclear Non-Proliferation Treaty early in 2003 after throwing out U.N. nuclear inspectors.

China convened a first round of six-party talks the following August, but progress eluded delegates until February this year when North Korea agreed to close Yongbyon in return for an initial 50,000 tonnes of heavy fuel oil. The first shipment reached the North on July 14.

Under phase two, the North is to receive an additional 950,000 tonnes of fuel oil in return for disabling its atomic facilities and coming clean on its nuclear secrets.

Accumulated distrust remained an obstacle, said Jon Wolfsthal, an expert on the dispute at the Centre for Strategic and International Studies in Washington.

"Neither the United States nor North Korea is really confident yet that the other country has fundamentally changed its stance," he said. "Neither wants to move too far ahead while still unsure of the other's motives."

| | | |
| --- | --- | --- |
| 1 | 2 | |
Most Commented/Read Stories in 48 Hours