KUALA LUMPUR, Malaysia - UN inspectors have verified that North Korea has shut down four more nuclear facilities beyond its sole working reactor, the chief of the UN nuclear watchdog agency said Wednesday.

"We have verified all the five nuclear facilities have been shut down," said Mohamed ElBaradei, chief of the International Atomic Energy Agency.

"Appropriate measures have been put in place, including sealing some of these facilities," ElBaradei told reporters during a visit to Kuala Lumpur, Malaysia.

"We expect that in the next few weeks, we will continue to apply the necessary monitoring and verification measures."

On Monday, ElBaradei announced that his team of inspectors had verified the shutdown of North Korea's only working nuclear reactor at Yongbyon, 100 kilometers (60 miles) north of Pyongyang.

The four additional facilities include two long-dormant construction sites for larger reactors, and facilities for making reactor fuel and reprocessing it.

ElBaradei said the shutdown of the five facilities was "a very good, positive step, but it's (the) very first step in a long road to travel."

"Obviously we will have to go beyond Yongbyon if we want to verify that all nuclear material, all nuclear activities in (North Korea) have been declared," he said. "That obviously means we might have to go to different places, that we might have to ask a variety of a questions, we might have to inspect different facilities."

ElBaradei expressed hopes that North Korea would declare its inventory of all nuclear facilities and material "as early as possible," but he said he could not tell whether Pyongyang's declaration and nuclear disablement could be completed by the end of the year, which Washington hopes.

"A lot of it depends on progress in the six-party talks," he said, referring to negotiations involving China, Japan, Russia, the US and the two Koreas, whose delegates gathered Wednesday in Beijing to chart steps ahead for North Korea's disarmament.

"What is really important is full transparency by (North Korea)," ElBaradei said. "The more transparency we get, the quicker we will be able to verify that everything in (North Korea) has been declared to us."

US says much work to be done at NK talks
US envoy Christopher Hill said there was much work to be done at Wednesday's new round of six-party talks on reining in North Korea's nuclear programme but held out the hope of agreeing to a disarmament schedule.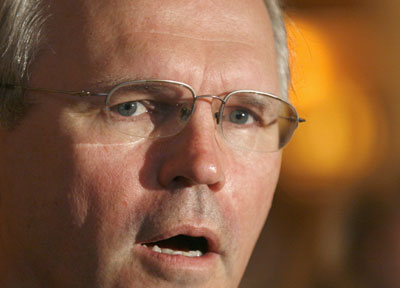 US Assistant Secretary of State Christopher Hill speaks to reporters as he leaves his hotel in Beijing July 18, 2007. [Reuters]


Chief negotiators will spend two days seeking to agree on a timetable for the next phase of North Korea's retreat from its nuclear programme now that it has shut its Yongbyon nuclear reactor.

Hill told reporters late on Tuesday that in a meeting with North Korea's chief negotiator, Kim Kye-gwan, he had pressed the idea of a timetable that would conclude the second phase of disarmament by the end of the year.

That would involve North Korea's declaration of all its nuclear activities and permanently disabling Yongbyon.

"We all know that we've got a long road ahead of us with many steps," he told reporters on Wednesday. "Maybe we could try to agree on getting these next phase things done in calendar year 07."

There had been no agreement on plans for that phase yet, he said, but North Korea and the United States seemed to be in the same "general vicinity".

Part of the phase would include pushing forward working groups which would deal with technical aspects of any agreement and improving political relations.

The third phase would require North Korea handing over fissile nuclear materials and other atomic arms infrastructure.

Hill said on Tuesday said he could not speak for the North Koreans but that he felt they seemed receptive. "I think we're on the same ballpark," he said.

North Korea's official Workers' Party newspaper, Rodong Sinmun, said the United States must remove "all nuclear war equipment" from South Korea, illustrating North Korea's long-held suspicions of US hostile intent.

"The United States must verifiably and objectively prove that it has no nuclear weapons in South Korea and has no intention to attack or invade us with nuclear or conventional weapons, as it said in the September 19 joint statement of the six-party talks," the newspaper said, quoted by the KCNA news agency.

The United States denies keeping nuclear weapons in South Korea.

The US State Department has said that International Atomic Energy Agency (IAEA) technicians who arrived in North Korea over the weekend had verified the shutdown of the Yongbyon reactor and expected to verify the status of four other nuclear facilities, including a spent fuel reprocessing plant, by Wednesday.