MOSCOW - Russia held off Tuesday on a threatened response to Britain's expulsion of four of its diplomats in the bitter standoff over the poisoning death of a former KGB officer, but it warned London it was on a "direct path to confrontation."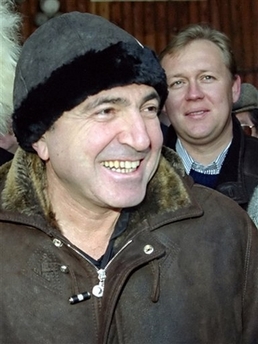 Russian billionaire Boris Berezovsky and former KGB agent Andrei Lugovoi, right, smile in Dombay ski resort in the North Caucasus region of Karachayevo-Cherkessiya, Russia, in this November 1999 file photo. [AP]


With Russian newspapers headlining a diplomatic war and state-run media unleashing a flood of commentary from Kremlin allies blasting Britain, Moscow had been expected to announce a response to the expulsions, possibly one that involved throwing out British diplomats.
At an eagerly awaited news briefing, however, Deputy Foreign Minister Alexander Grushko vowed a "targeted and appropriate" response, without revealing Russia's plans. He hinted that Russia could stop cooperating on a range of matters, possibly even anti-terror efforts.
The standoff over Alexander Litvinenko's death and Russia's refusal to extradite the key suspect in the case has badly damaged ties between two countries, which were already plagued by a history of spying and worsening relations between Russia and the West in general.
The British diplomatic moves, which also include restricting visas issued to Russian government officials, are "a direct path to confrontation and narrowing of the opportunities for interaction with Russia on a wide spectrum of issues," Grushko said.
He added "the line London has taken will complicate, if not make impossible, the cooperation of law enforcement organization on questions that touch the security interests of millions of Britons and Russians" - an apparent warning that Moscow would be less cooperative on anti-terror efforts.
Britain has said that retaliation by Russia would not be justified.
Echoing Russian President Vladimir Putin, who has called Britain's extradition demand "stupidity," Grushko stressed that Russia's constitution bars the extradition of its citizens and that Moscow is not bound to hand over suspect Andrei Lugovoi by international commitments.
"They are trying to punish us for abiding by our own constitution, which is not just unfair and unacceptable but contradicts common sense," Grushko said.
Striking a softer tone, Russia's ambassador to Britain said it was important to "lower the emotions" and seek to ease escalating tensions, but he added that London must take the first step.
"A lot depends on the political will of the British government," Yuri Fedotov said.
Lugovoi, a Russian with a KGB background, met with Litvinenko, a Kremlin critic, at a London hotel bar the day he fell ill. Litvinenko died Nov. 23 after ingesting radioactive polonium-210, and blamed Putin on his deathbed.
Britain warns Russia against retaliation in Litvinenko row

"The foreign secretary has set out our position and no retaliation on Russia's behalf is justified," a Foreign Office spokesman told AFP after Russia said it was preparing a "targeted and appropriate" response.
Prime Minister Gordon Brown's spokesman Michael Ellam added: "It's entirely a matter for the Russians how and when they do respond. We haven't seen any response.
"We think this individual (Lugovoi) should be extradited and should stand trial in a British court."
Foreign Secretary David Miliband told parliament Monday that Britain was to expel the diplomats because of Russia's refusal to extradite former Soviet KGB agent Andrei Lugovoi, the chief suspect for Litvinenko's murder.
Visa restrictions were also in the offing as Anglo-Russian relations plunged to a post-Cold War low.
The row overshadowed Brown's visit to Berlin for talks with German Chancellor Angela Merkel on Monday - his first foreign trip as prime minister.
He said Britain still wanted good relations with Russia but made "no apologies" for the government's response.
Yuri Fedotov, Russia's ambassador to Britain, stood outside the Houses of Parliament to tell reporters Moscow would consider its options before striking back over the expulsion of diplomats.
"It takes time. We are serious people. We are not rushing," he said.
Changing the Russian constitution, which forbids the extradition of Russian nationals, would require a referendum, he added. Fedotov also reiterated that Lugovoi could face trial in Russia.
"It is not possible. There are other ways and means that justice can be organised - including in Russia," he said.
"Mr Litvinenko was a Russian national. We have all rights to have a trial in Russia. A lot depends on the will of the British government.
"It is a stage which requires a serious assessment and a serious overview of our bilateral relations."
For his part, Berezovksy, who Moscow has also accused of murdering Litvinenko, offered on Tuesday to stand trial in a third country agreed by his lawyers, so long as Lugovoi agreed to do the same.
"I personally am prepared to go to the third country, and to have fair trial in the third country, if Lugovoi (is) afraid to come here," Berezovsky told the BBC.
He said that the other country should be one agreed by his lawyers, "it should be some country where (there) really is fair trial."
Berezovsky added that Lugovoi "should accept the same."
He said that he had not contacted the British foreign ministry with his offer, and was declaring it for the first time.
"I want to stress ... Lugovoi is just (a) puppet. Russia (will) never allow Lugovoi to go anywhere ... Putin (is) personally behind this murder," he told the broadcaster.