TEHRAN, Iran - Two Iranian-Americans detained here on national security charges appeared Monday for the first time on state television, with one saying in one of the brief video clips that his foundation may have targeted Islam.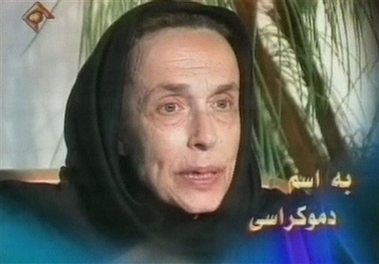 Haleh Esfandiari a detained Iranian-American speaking in this image taken from TV during a TV interview at an unknown location in Iran that was aired in Iran on Monday July 16, 2007. [AP]


The TV images followed Iran's announcement this month that fresh evidence had pushed its judiciary to launch new investigations into the cases of Haleh Esfandiari and Kian Tajbakhsh.

State TV said the video clips were a preview for a longer program titled "Under the Name of Democracy" that will air later this week. Relatives and employers of Esfandiari and Tajbakhsh denounced the videos, saying they were coerced and illegitimate.

Along with shots of the Iranian-Americans, the preview also showed archived images of street violence and protests, apparently from Iran and Eastern Europe.

Esfandiari and Tajbakhsh appeared separately. They both spoke in Farsi and appeared to be in homes or offices.

Tajbakhsh, an urban planning consultant with the New York-based George Soros Open Society Institute, and Esfandiari, director of the Middle East program at the Washington-based Woodrow Wilson International Center for Scholars, have been held in Tehran's Evin prison since being arrested separately in May on charges of endangering national security.

Two other Iranian-Americans face similar charges.

Family members, colleagues and employers of the four Iranian-Americans deny the allegations. The US government has demanded that they be released.

In one of the video clips, Tajbakhsh, 45, is shown reading from a piece of paper. "The role of the Soros foundation might have been targeting the world of Islam," he says.

In another segment, Esfandiari wore what appeared to be the traditional black cloak called a chador. A man wearing glasses was shown seated across from her asking questions.

"I was an element in the velvet revolution in Georgia," Esfandiari said. The TV did not elaborate or explain the context in which she said this.

But the Iranian Intelligence Ministry has accused her of trying to set up networks of Iranians with the ultimate goal of creating a "soft revolution" in Iran to topple the hard-line Islamic administration.

At another point in the video, Esfandiari said: "Finding speakers has been my role," a possible reference to her efforts to bring prominent Iranians to the US to talk about the political situation in Iran.

The Woodrow Wilson Center said any "confessions" made by Esfandiari - which Iranian state-run television says it will air later this week - have no legitimacy.

"Any statements she may make without having had access to her lawyer would be coerced and have no legitimacy or standing," said former Rep. Lee H. Hamilton, president and director of the Woodrow Wilson Center.

The Open Society Institute also said in a statement it was "disheartened by the Iranian government's decision to stage television footage of coerced statements" made by Tajbakhsh and Esfandiari.

State Department spokesman Sean McCormack said he had not seen the footage, but he renewed calls for the detainees' release.

"These are people who have devoted large chunks of their lives to building bridges between the Iranian and the American people, so to prevent these kinds of people from especially leaving Iran really sends a negative message and is an unfortunate comment about the nature of this particular regime," McCormack said.

The spokesman also renewed an appeal for information about the whereabouts of Robert Levinson, a former FBI agent who went missing in Iran in March and has not been heard from since.

| | | |
| --- | --- | --- |
| 1 | 2 | |