North Korea seemed ready Friday to take a first step toward scaling back its nuclear weapons program, perhaps this weekend, as U.N. inspectors prepared to monitor the shutdown of its sole operating atomic reactor.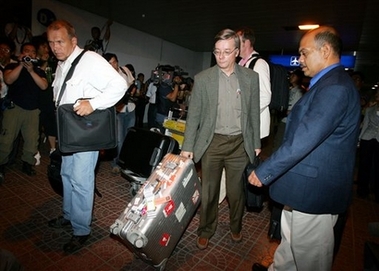 Members of the International Atomic Energy Agency's (IAEA) inspection team arrive at Beijing airport Friday, July 13, 2007. Nine IAEA experts arrived in Beijing for a stopover of less than one day before a scheduled flight to Pyongyang on Saturday morning, to supervise the shutdown of the plutonium-producing nuclear reactor that is the key component of the reclusive communist nation's atomic weapons program. [AP]


The team from the International Atomic Energy Agency stopped in Beijing en route to the North, with its Saturday arrival in Pyongyang scheduled just hours after a South Korean oil shipment was to enter a North Korean port ¡ª a promised reward for the reactor shutdown pledge.
After years of tortuous negotiations and delays during which the North argued its nuclear program was needed for self-defense, the reclusive communist regime said last week that once it got the oil shipment, it would consider halting its reactor for the first time in five years.
North Korea did not, however, give any timetable for starting the shutdown. The tanker was due to arrive Saturday morning, and officials said it would take 48 hours to pump out its load of 6,200 tons of heavy fuel oil.
But U.N. officials expressed optimism that North Korean officials were ready to go forward with the shutdown of the plutonium-producing reactor at Yongbyon, about 60 miles northeast of the capital.
"With the kind of help which we (have received) from the (North) in the past few weeks, we think we will do our job in a successful way," IAEA team chief Adel Tolba said in Beijing.
North Korea's military, meanwhile, proposed direct talks with the U.S. on forging a permanent peace on the Korean peninsula. The proposal was noteworthy because it appeared to go beyond simple administrative talks on the 1953 cease-fire that ended the Korean War.
State Department deputy spokesman Tom Casey suggested the idea was both premature and outside the framework for the nuclear talks already agreed on. "We have a channel and mechanism for discussing a variety of issues with North Korea through the six-party process," he said.
North Korea agreed earlier this year to scrap its nuclear weapons program in exchange for economic aid and political concessions in a deal with the United States, China, Japan, South Korea and Russia.
Those nations promised to give the impoverished North 50,000 tons of oil for shutting the Yongbyon reactor. It will get total energy aid equivalent to 1 million tons of oil if it disables all nuclear facilities.
The agreement eased a standoff that began in October 2002, when the U.S. said North Korean officials had admitted during meetings in Pyongyang to having a secret uranium enrichment program. Washington said that violated a 1994 agreement for the North's disarmament, and a month later halted oil shipments under that deal.
The North reacted by expelling IAEA monitors on New Year's Eve, withdrawing from the Nuclear Nonproliferation Treaty and restarting the reactor.
Since then, North Korea has occasionally shut down the reactor to remove fuel rods and extract plutonium ¡ª and is believed to have harvested enough to construct at least a dozen atomic bombs.
Demonstrating its nuclear power, the North set off an underground test explosion in October, leading to intensified international efforts to negotiate an end to Pyongyang's arms program.
When it does act to shut down the reactor again, the North will term it simply a suspension of operations ¡ª a move that could be easily reversed, as it was in 2002.
But the main U.S. envoy on North Korea said Friday that Washington hoped to quickly move beyond the mere freeze of the reactor and dismantle the program by year's end.
"Where we would like to be at the end of the year is with the Yongbyon facility disabled," Assistant Secretary of State Christopher Hill said after meeting with his Japanese counterpart in Tokyo to prepare for another round of the six-nation nuclear talks next week in Beijing.
"As I've said before, we lost a lot of time in the early part of this year and now we have to do a lot in the second part if we are to achieve our objectives," Hill said.
Just getting to the shutdown required the U.S. to back down on a separate banking dispute in which Washington blacklisted a Macau bank for dealing with the North, saying it was helping the regime launder money. The bank remains banned from doing business with U.S. institutions, but the North Korean funds were freed earlier this year with U.S. approval.
More hurdles lie ahead, with the North required to declare all its nuclear programs and materials. It has never publicly admitted running the alleged uranium enrichment program that sparked the nuclear crisis and would need to find a face-saving way to do so if the accusation was true.
The regime also has not specifically said when it could give up its already built nuclear bombs or indicated what reward it would expect for doing that.