SEOUL - The head of the UN's atomic watchdog agency said Thursday he expects the shutdown of North Korea's nuclear reactor to go smoothly.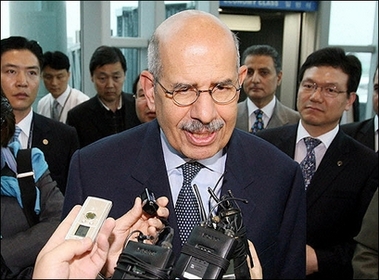 International Atomic Energy Agency chief Mohamed ElBaradei arrives to attend a conference at the Incheon International Airport, west of Seoul. [Agencies]


International Atomic Energy Agency inspectors are likely to arrive Saturday to monitor the shutdown of the Yongbyon reactor.

"I expect that operation to move smoothly. We already have an agreement on how to go about it," IAEA chief Mohamed ElBaradei told a press conference.

A preparatory IAEA mission visited North Korea last month to discuss arrangements for the monitoring mission.

"I am quite optimistic. This is a good step in the right direction," the IAEA chief said.

But he cautioned that full denuclearisation is "going to be a long process... it will take time to have a comprehensive solution."

North Korea has said it will consider shutting Yongbyon as soon as it receives a first shipment of compensatory fuel oil from South Korea. The shipment was due to leave later Thursday and arrive in the North Saturday.

The two Koreas, the United States, China, Russia and Japan, who have been meeting since 2003 to negotiate an end to the North's nuclear programmes, reached a deal in February.

Under the pact the energy-starved North will receive one million tons of fuel oil or equivalent aid, plus major diplomatic benefits and security guarantees, if it declares and dismantles all nuclear programmes.

Yongbyon's closure, to be rewarded with an initial 50,000 tons of oil from South Korea, is the first step.

ElBaradei said the second step would depend on the outcome of six-party talks, which are expected in Beijing next week.

"I hope all six parties make every effort to reach a comprehensive settlement," he said, expressing hope also that North Korea would eventually return to the nuclear Non-Proliferation Treaty.

He said a nuclear settlement would be "good for the DPRK (North Korea), good for Asia and for the international community."