WASHINGTON - A progress report on Iraq will conclude that the US-backed government in Baghdad has not met any of its targets for political, economic and other reform, speeding up the Bush administration's reckoning on what to do next, a US official said Monday.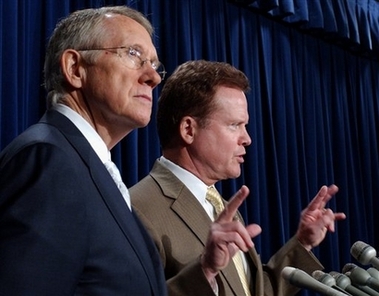 Sen. Jim Webb, D-Va., right, and Senate Majority Leader Harry Reid of Nev., discuss legislation to change the course of the War in Iraq, Monday, July 9, 2007, during a news conference on Capitol Hill in Washington. [AP]


One likely result of the report will be a vastly accelerated debate among President Bush's top aides on withdrawing troops and scaling back the US presence in Iraq.

The "pivot point" for addressing the matter will no longer be Sept. 15, as initially envisioned, when a full report on Bush's so-called "surge" plan is due, but instead will come this week when the interim mid-July assessment is released, the official said.

"The facts are not in question," the official told The Associated Press, speaking on condition of anonymity because the draft is still under discussion. "The real question is how the White House proceeds with a post-surge strategy in light of the report."

The report, required by law, is expected to be delivered to Capitol Hill by Thursday or Friday, as the Senate takes up a $649 billion defense policy bill and votes on a Democratic amendment ordering troop withdrawals to begin in 120 days.

Also being drafted are several Republican-backed proposals that would force a new course in Iraq, including one by Sens. Susan Collins, R-Maine, and Ben Nelson, D-Neb., that would require US troops to abandon combat missions. Collins and Nelson say their binding amendment would order the US mission to focus on training the Iraqi security forces, targeting al-Qaida members and protecting Iraq's borders.

"My goal is to redefine the mission and set the stage for a significant but gradual drawdown of our troops next year," said Collins.

GOP support for the war has eroded steadily since Bush's decision in January to send some 30,000 additional troops to Iraq. At the time, Bush said the Iraqis agreed to meet certain benchmarks, such as enacting a law to divide the nation's oil reserves.

This spring, Congress agreed to continue funding the war through September but demanded that Bush certify on July 15 and again on Sept. 15 that the Iraqis were living up to their political promises or forgo US aid dollars.

The official said it is highly unlikely that Bush will withhold or suspend aid to the Iraqis based on the report.

A draft version of the administration's progress report circulated among various government agencies in Washington on Monday.

White House Press Secretary Tony Snow on Monday tried to lower expectations on the report, contending that all of the additional troops had just gotten in place and it would be unrealistic to expect major progress by now.

"You are not going to expect all the benchmarks to be met at the beginning of something," Snow said. "I'm not sure everyone's going to get an `A' on the first report."

In recent weeks, the White House has tried to shore up eroding GOP support for the war.

Collins and five other GOP senators - Lamar Alexander of Tennessee, Judd Gregg of New Hampshire, Robert Bennett of Utah, John Sununu of New Hampshire and Pete Domenici of New Mexico - support separate legislation calling on Bush to adopt as US policy recommendations by the Iraq Study Group, which identified a potential redeployment date of spring 2008.

Other prominent Republican senators, including Richard Lugar of Indiana, George Voinovich of Ohio, Chuck Hagel of Nebraska and Olympia Snowe of Maine, also say the US should begin redeployments.

| | | |
| --- | --- | --- |
| 1 | 2 | |