Chicago Board of Trade and Chicago Mercantile Exchange shareholders voted Monday to merge into the world's biggest futures market, and the biggest exchange by share value, a joint statement said.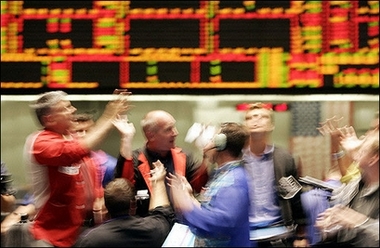 Action in the trading pit at the Chicago Board of Trade in Chicago. Chicago Board of Trade Holdings shareholders will vote on a friendly merger offer from its cross-town rival, the Chicago Mercantile Exchange, to create the world's biggest financial exchange by market capitalization.[AFP]


Preliminary results released by the companies showed CBOT Holdings shareholders accepted the friendly CME bid worth an estimated 11 billion dollars, ending a long bidding war for the storied futures market.
"We are pleased that shareholders of both companies have demonstrated support for this groundbreaking merger," said CME executive chairman Terry Duffy.
"The combination of CME and CBOT creates a strong international company better positioned to compete with growing global exchanges."
CBOT Holdings shareholders had been faced with a fierce takeover campaign by IntercontinentalExchange (ICE) for several months. But ICE failed to boost its offer after CME announced its latest sweetened bid Friday.
"Today's votes clear the way for us to combine our two great exchanges and begin delivering the value of the merger to our customers and shareholders," said CBOT chairman Charles Carey.
"We look forward to building on our shared legacies of superior customer service, product innovation and industry leadership to capitalize on the terrific growth opportunities we see in this global marketplace."
The companies said they expect to complete the merger subject to official certification of the votes by independent election inspectors, expected in the next few days.
The combined company will be called CME Group Inc., a CME/Chicago Board of Trade Company.
It will be "the world's largest and most diverse exchange, providing products in all major benchmark asset classes," the companies said.
On Friday, CME sweetened its all-stock offer for a third time, allowing CBOT shareholders to own some 36 percent of the combined company, up from 35 percent in the prior agreement. Analysts said the latest bid was worth 11 billion dollars.
ICE, the company based in Atlanta, Georgia, that operates the New York Board of Trade and the London-based International Petroleum Exchange, failed to respond to the latest CME bid.
The hard-fought battle comes amid a growing role for futures and derivatives in global financial markets.
These exchanges, which help spread risk in case of a sharp drop of prices of assets, allow investors to trade or bet on things as varied as interest rates, the price of real estate or even the level of snowfall in Boston.
Such trading grew 24 percent in the first quarter of 2007 to an eye-popping 533 trillion dollars globally, according to the Bank of International Settlements.
Chicago has been a global center for derivatives ever since CBOT began offering the world's first agricultural futures contracts in 1848, based on the likely prices of farming products in the US Midwest.
The Chicago Merc and CBOT together in the past seven years have launched 137 new derivative offerings, ranging from bets on the weather, ethanol prices or credit defaults.