JERUSALEM - The Israeli Cabinet on Sunday approved the release of 250 Palestinian prisoners, officials said, in its latest gesture of support for Palestinian President Mahmoud Abbas.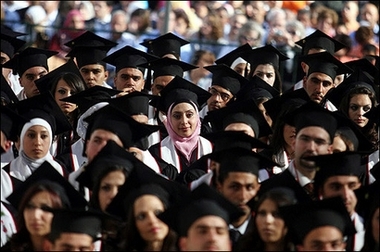 Palestinian students attend their graduation ceremony at Birzeit University near the West Bank city of Ramallah. [AFP]


Prime Minister Ehud Olmert agreed to the prisoner release two weeks ago during a meeting with Abbas, part of an Israeli strategy to bolster the Palestinian leader in his standoff against the Hamas militant group. The release has been put on hold while Israel finalizes the list of prisoners.
Cabinet participants, speaking on condition of anonymity because the meeting was still going on, said the release was approved by a wide margin. But they said Israel still has not decided on the names of prisoners to be released. Israel is holding some 10,000 Palestinian prisoners.