ISLAMABAD - Pakistani President Pervez Musharraf on Saturday said remaining hard-line militants in Islamabad-based Lal Masjid, or Red Mosque, should surrender or die,TV channels reported.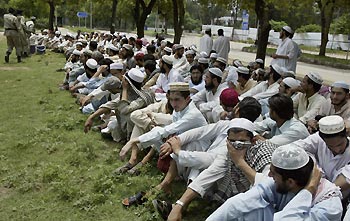 Radical Muslim students sit after their surrender near Lal Masjid or Red Mosque in Islamabad July 4, 2007. More than 500 radical Muslim students surrendered at the besieged mosque in the Pakistani capital on Wednesday but thousands of militants remained inside a day after 11 people were killed in clashes. [Xinhua]


Musharraf made the remarks while talking to reporters during a visit to Pakistan's flood-hit southwestern province of Baluchistan.
"They should not prolong, they should surrender and hand over their weapons, otherwise they risk being killed," he said.
"The government has enough power and no one can stand before its might," he said. "Our concern is for children and women and we are showing lot of patience and restraint."
Musharraf said the government has been showing patience in dealing with Lal Masjid and trying to save lives as many as possible.
Addressing a high-level meeting in Islamabad Saturday, Pakistani Prime Minister Shaukat Aziz also said the government is concerned over reports that women and children have been forcibly detained and made hostage by the "extremists" inside the mosque and seminary complex.
"Their safety is the top priority of the government and we are pursuing a strategy to achieve our objectives without compromising on their safety", Aziz said.
The government is avoiding full-fledged military operation against the Lal Masjid mosque and seminary complex as it does not want massive bloodshed, according to officials.
Hundreds of male and female students are believed to remain inside the Lal Masjid or Red Mosque compound, and they have been held as hostages by the mosque administration and are not allowed to leave, officials said.
The government encouraged interventions by Ulemas, or religious scholars, parliamentarians, social workers and others for the release of the women and children held hostage, according to Aziz, who added that their efforts could not yield positive results and that no headway could be made because of the intransigence of the administration of Lal Masjid.
A series of blasts and gunfire continued around besieged Lal Masjid Saturday.
Besieged deputy chief of Lal Masjid, Maulana Abdul Rashid Ghaziand a number of hard-core armed students, who declared that they preferred martyrdom to surrender, remained defiant inside the mosque.
Officials said a total of 1,221 students, including 795 boys and 426 girls, have surrendered before law enforcing agencies so far, but could not confirmed the exact number of students remaining still inside the compound.
Troops surrounded the mosque on July 4, a day after tensions between Lal Masjid followers and security personnel deployed outside the mosque erupted into deadly street clashes, which so far have left at least 19 people killed and over 100 injured.