TUZ KHORMATO, Iraq - A suicide truck bomber blasted a Shiite town north of Baghdad on Saturday, killing more than 100 people, police said, in a sign Sunni insurgents are pulling away from a US offensive around the capital to attack where security is thinner.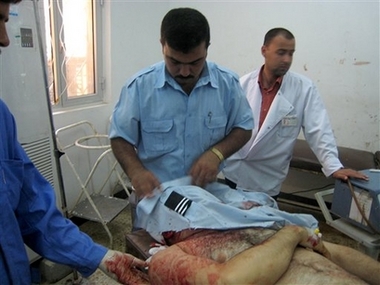 A man cover the face of Iraqi intelligence officer Hecor Mohammed, after he died in the hospital after he was attacked by gunmen in central Kirkuk, Iraq, 290 kilometers (180 miles) north of Baghdad, Friday, July 6, 2007. [AP]


The marketplace devastation underlined a hard reality in Iraq: There are not enough forces to protect everywhere. US troops, already increased by 28,000 this year, are focused on bringing calm to Baghdad, while the Iraqi military and police remain overstretched and undertrained.
The top US commander in Iraq, Gen. David Petraeus, told The Associated Press he expected Sunni extremists to try to "pull off a variety of sensational attacks and grab the headlines to create a `mini-Tet.'"
He was referring to the 1968 Viet Cong and North Vietnamese Tet offensive that undermined public support for the Vietnam War in the United States.
The US military on Saturday also reported that eight American service members were killed in fighting in Baghdad and western Anbar province over two days, reflecting the increased US casualties that have come with the new offensives. A British soldier was killed in fighting with Shiite militias overnight in the southern city of Basra.
In Saturday's attack - among the deadliest this year in Iraq - the truck detonation ripped through the market in the farming town of Armili at around 8:30 am, as crowds had gathered for morning shopping.
It demolished several dozen old mud-brick homes and shops, burying dozens of people under the rubble, and set cars on fire, survivors said.
While residents and police dug through the wreckage for hours, victims were ferried in farmers' pickup trucks 30 miles to the nearest hospital, in Tuz Khormato.
Weeping and screaming relatives searched Tuz Khormato's hospital frantically for word of loved ones. Ali Hussein read the names of victims being moved further north to Kirkuk for treatment. "My cousin died in the explosion, but I don't know the fate of my brother," he said in tears.
Abdullah Jabara, deputy governor of Salahuddin province where the town is located, told Iraqi state television that 115 died - nearly three-quarters of them women, children and elderly - and blamed al-Qaida. Police gave a similar death toll, along with more than 200 wounded, though Tuz Khormato's police chief, Col. Abbas Mohammed Amin, put the toll at 150 dead.
The attack's location suggested it was carried out by Sunni extremists fleeing the three-week old US offensive centered at the city of Baqouba, 60 miles to the south on Baghdad's northern doorstep. The sweep aims to uproot al-Qaida militants and Sunni insurgents using the area to stage car bomb attacks in the capital.
But US commanders acknowledge that many insurgents fled Baqouba before the assault, and they may have found easier ground for attacks further north.
"Because of the recent American military operations, terrorists found a good hideout in Salahuddin province, especially in the outskirts areas in which there isn't enough number of military forces there," said Ahmed al-Jubouri, an aide of the provincial governor.
Armili, 100 miles north of Baghdad, is a town of 26,000, mostly Shiites from Iraq's Turkoman ethnic minority. Residents say tensions are constantly high with Sunni Arabs who dominate the surrounding villages. Iraqi security presence is scant in the remote region, near the border with neighboring Diyala province.
"The number of Iraqi police and army in this area is too low. This is a farming area with a lot of empty areas, so it's neglected. There's not even much presence of government officials," said Haytham Khalaf, 37, an Amirli resident whose niece was injured. He accused local Sunnis of helping al-Qaida set up a presence there.