PARIS - "Private jets for climate change!" joked the singer from British rock band Muse about Live Earth earlier this year, creating an awkward tag for the biggest ever series of "green" celebrity concerts.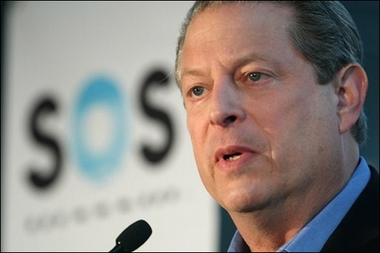 Al Gore speaks during a press conference to announce the Live Earth "Call To Action" to combat global warming June 28, in New York City. [Agencies]


Al Gore's gigs to fight global warming take place on Saturday, with some of the biggest names in the industry due to appear on stages in seven cities across the world.
Environmentalist John Buckley, managing director of British consultancy Carbonfootprint.com, stresses the dangers of cynicism to the event and he expects performers to set an example to fans.
"On the one hand, Live Earth wouldn't be able to get such a large audiences without getting high-profile stars, but then sometimes you wonder if they are the best people because they do live an affluent lifestyle," he says.
"Madonna's hit 'Material Girl' was all about buying things after all."
The American diva, who is headlining the London concert, is the most successful female artist of all time and has accumulated a vast empire during more than 20 years in the business.
Buckley, citing information obtained from a Madonna expert, said the singer had a fleet of cars, including a fuel-guzzling Range Rover, as well as a clutch of properties in Britain and the United States.
Other star acts have questionable environmental credentials too, making them a target for sniping and charges of hypocrisy.
The car-loving rapper Snoop Dogg, who will play in Hamburg, appeared in a commercial for US automaker Chrysler last year talking in his trademark hip hop language.
"Fo shizzle, I-ka-zizzle," he says, an apparent entreaty to buy Jeep and Dodge cars, before concluding: "If the ride is more fly, you must buy."
A number of people in the music industry, from hit British rock band Arctic Monkeys to Live Aid organiser Bob Geldof, have also voiced their reservations about the concept.
Live Earth organiser Yusef Robb points out the organisers have gone to great lengths to minimise the environmental impact of the shows themselves and stresses that some artists are taking their first steps with the event.
"We are designing all of our concerts to be as green as possible. We want the concerts themselves to be part of the solution," he said.
"Some may say that rock stars tend to be conspicuous consumers but if we can get those people to turn the corner then we're happy to do so."
Fans travelling to shows are being encouraged to share cars or use public transport to attend, all lightbulbs will be energy-efficient and the food will be sourced locally where possible.
In Brazil, the generators will run on biodiesel, all the signs from the New York show and the stage in Tokyo will be recycled or composted, and some of the packaging at the events will be starch-like material rather than plastic.