ISLAMABAD - Small groups of radical students trickled out from Islamabad's besieged Red Mosque on Thursday, despite warning blasts overnight, raising fears that hardcore militants were keeping some children as human shields.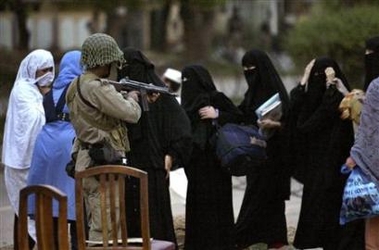 Radical Muslim female students surrender themselves to soldiers near Lal Masjid or Red Mosque in Islamabad July 4, 2007. [Reuters]


The captured leader of the mosque's Taliban-style student movement, in an interview broadcast on state television, said 850 students remained inside, including 600 women and girls, but only 14 men were armed with Kalashnikovs.

Abdul Aziz, clad in a woman's all-enveloping garment like the one he was caught wearing the previous evening, began the interview by dramatically lifting the black veil to reveal a face dominated by a bushy grey beard.

Smiling through much of the interview Aziz said he had wanted to leave the mosque, and had urged others to do the same, but some women teachers had persuaded girls to stay behind.

"They are not being used as human shields, we only gave them passion for jihad (holy war)," Aziz said.

But he said it was time for all the students to leave.

"For students to stay put at the mosque will only be damaging ... they should either leave, if they can, or surrender."

One 12-year-old girl, Maria Habib, who was escorted from the mosque by her uncle on Thursday, said there were between 35 and 40 students of her age still inside.

A burqa-clad young woman who left on Thursday told Reuters Television she had seen four bodies in the mosque including those of two girls.

Before dawn, security forces fired a series of "warning blasts," ratcheting up pressure on the hold-outs to surrender.

The blasts were followed by a loudspeaker announcement calling on students inside Lal Masjid to give up, a witness said.

Some gunfire also erupted but both the blasts and gunfire stopped after about 20 minutes.

Deadline passes

By the time a new deadline for surrender passed shortly after noon, only around 66 students, half of them girls, had left the sprawling, fortified compound housing the mosque and a madrasa, compared with Wednesday's mass exodus of 1,200 students.

A helicopter gunship overflew the compound, firing in what appeared to be the same sort of intimidation tactic used after earlier deadlines had elapsed.

"All those who are remaining in the mosque are ready to die," said Mehbood Wali, 25, one of the male students to leave the mosque on Thursday.

Hospital doctors said there had been casualties during shooting overnight, raising prospects that the death toll would rise from an official tally of 16 since clashes began on Tuesday.

An intelligence official said one student had been shot dead.

"One student is confirmed killed during the shooting early this morning. There are no reports of wounded," he said.

The Lal Masjid movement is part of a phenomenon known as "Talibanization" - the spread of militant influence from remote tribal regions on the Afghan border into central areas.

Liberal politicians have for months pressed President Pervez Musharraf, who faces elections later this year, to crack down on the cleric brothers in charge of the mosque and their movement.

The students carried out a series of provocative acts over the past six months, demanding the enforcement of strict Islamic law, while running a vigilante anti-vice campaign.

Abdul Aziz had threatened suicide attacks if force was used against his movement.

| | | |
| --- | --- | --- |
| 1 | 2 | |