WASHINGTON - The United States said on Thursday it was "unfortunate" that a Russian official suggested Russia might move its missiles closer to western Europe if its proposals on a planned missile shield in Europe are ignored.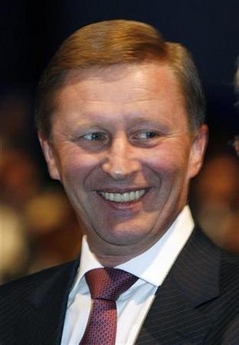 Russian First Deputy Prime Minister Sergei Ivanov attends the International Economic Forum in St. Petersburg June 9, 2007. [Reuters]


The United States plans to place 10 interceptors in Europe and radar in the Czech Republic as part of a shield designed to protect Europe from missile attacks by states such as Iran and North Korea. Russia has harshly criticized the plan.
At a meeting with US President George W. Bush this week, Russian President Vladimir Putin proposed Russia and NATO share data about missile launches from "rogue states," saying this would remove the need for the Polish and Czech installations.
On Wednesday Russia's First Deputy Prime Minister Sergei Ivanov appeared to suggest that if the United States accepted Putin's plan then Russia would not place missiles in its western-most province of Kaliningrad.
"If our proposals are accepted, the need will disappear for Russia to deploy new missile weapons in the European part of the country, including in Kaliningrad region," Interfax news agency quoted Ivanov as saying during a trip to Uzbekistan.
Ivanov, in overall charge of Russia's defense sector and a leading candidates to become the country's next president, did not elaborate.
Kaliningrad lies on the Baltic Sea coast and is surrounded by Lithuania and Poland. It is not connected by land to the rest of Russia and the city of Kaliningrad is far closer to Warsaw than to Moscow.
"Mr. Ivanov's comments were unfortunate but I don't think it distracts us from the fact that we are having a constructive conversation with the Russians," State Department spokesman Sean McCormack told reporters, calling the remarks "not constructive."
"It reminds me of, to borrow a line from the Cold War, from our own domestic politics, 'There they go again'," he added, alluding to then presidential candidate Ronald Reagan's dismissive comment "There you go again" against then President Jimmy Carter during the 1980 US presidential campaign.
"You're going to have some of this rhetoric in public. But what's important is that we try to come up with a constructive dialogue, and try to come up with some constructive solutions to addressing what is a very real threat," he added.
McCormack said Washington and Moscow planned to continue talks on the issue, including at a meeting of their foreign and defense ministers in September or October. Earlier, US officials had said these talks were likely in September.