SEOUL - South Korea will start shipping oil to North Korea next week, an official said on Wednesday, a day after UN nuclear inspectors said DPRK had agreed to steps verifying a shutdown of its nuclear program.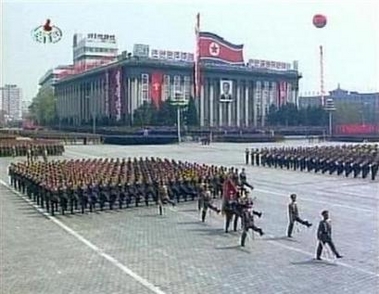 A video grab shows a North Korean militaryparade in central Pyongyang, April 25, 2007. [Reuters]


Under a disarmament-for-aid pact reached in six-country talks in February, North Korea pledged to start closing its Soviet-era Yongbyon reactor in exchange for 50,000 tons of heavy oil from its neighbor.
Implementation of the deal was held up for months because of a standoff over North Korean funds frozen in a Macau bank.
"The first shipment will start next week and the initial amount will be between 5,000 and 10,000 tons," a South Korean Unification Ministry official said.
US State Department spokesman Sean McCormack said on Tuesday Pyongyang wanted some of the oil before starting to close Yongbyon, and Washington was not opposed to such a shipment.
The International Atomic Energy Agency (IAEA), which sent officials to North Korea last week, said Pyongyang had agreed to measures to verify a shutdown of the Yongbyon complex.
The UN watchdog said the six countries in the talks - the two Koreas, China, Japan, Russia and the United States - must settle on a shutdown target date before it sends inspectors.
Pyongyang expelled the Vienna-based agency's inspectors in December 2002. It subsequently walked out of the nuclear Non-Proliferation Treaty, announced that it had atomic bombs and, last year, conducted its first nuclear test.
North Korean leader Kim Jong-il said in a meeting with China's foreign minister on Tuesday that each party should take "initial actions" in the aid-for-disarmament deal, China's Xinhua news agency reported.
Kim rarely meets visiting dignitaries, but has held discussions with envoys from China and South Korea - the North's main benefactors - in recent years that have sometimes helped ease tensions.
"Recently, there have been some signs of easing in the situation on the Korean peninsula," Xinhua cited Kim as saying during his meeting in Pyongyang with Yang Jiechi. "Each party should implement initial actions."
The North's official KCNA news agency reported Yang left Pyongyang on Wednesday.