BAGHDAD - The US military accused Iran on Monday of a direct role in a sophisticated militant attack that killed five American troops in Iraq, portraying Tehran as waging a proxy war through Shiite extremists.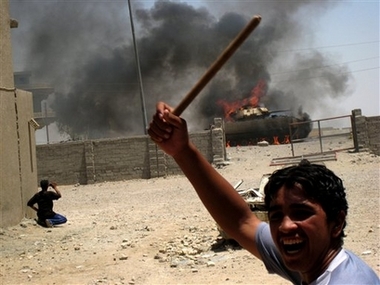 An Iraqi youth reacts as a US military's Bradley fighting vehicle is on flames in Obeidi, in south east Baghdad, Iraq, Monday, July 2, 2007, after it was struck by a road side bomb, according to eyewitnesses. [AP]


The claims over the January attack marked a sharp escalation in US accusations that Iran has been arming and financing Iraqi militants, and for the first time linked the Iranian effort to its ally, Lebanon's Shiite Hezbollah militia. The allegations could endanger Iraqi efforts to hold a new round of talks between the US and Iran.

US military spokesman Brig. Gen. Kevin J. Bergner said the Quds Force, part of Iran's elite Republican Guards, was seeking to build an Iraqi version of Hezbollah to fight US and Iraqi forces - and had brought in Hezbollah operatives to help train and organize militants.

"Our intelligence reveals that the senior leadership in Iran is aware of this activity," Bergner told a Baghdad news conference. He said it would be "hard to imagine" that Iran's supreme leader Ayatollah Ali Khamenei did not know about the activity.

Iran has denied past claims that it was backing Iraqi militants - including accusations that it was providing them with a particularly deadly type of roadside bomb, the explosively formed penetrator. Its ally Hezbollah has denied having any role in Iraq, saying it operates only in Lebanon.

Iranian Foreign Ministry spokesman Mohammad Ali Hosseini rejected the allegations Monday, saying "American leaders have gotten into the habit of issuing ridiculous and false statements without providing evidence, with political and psychological aims."

But Bergner said an extensive Quds Force program was revealed through interrogations of an alleged Lebanese Hezbollah operative, Ali Mussa Dakdouk, and an Iraqi militant, Qais al-Khazaali, along with documents seized with them. Both men were captured in March in the southern city of Basra.

The Quds Force is providing up to $3 million a month to Iraqi militants and bringing them to three training camps outside Tehran to learn how to carry out bombings, raids and kidnappings, Bergner said. Most of those who trained in Iran were extremists who broke away from Iraqi Shiite militias, including the Mahdi Army loyal to anti-US cleric Muqtada al-Sadr, he said.

Dakdouk, a 24-year veteran of Hezbollah, was sent to Iraq "as a surrogate for the Iranian Quds Force" to finance and arm militant cells known as "special groups," the general said.

The goal was to organize militants "in ways that mirrored how Hezbollah was organized in Lebanon." Hezbollah is one of the region's most disciplined and powerful militant groups, able to fight Israel's military to a near standstill in a war last summer.

Dakdouk told his interrogators that the militants behind the Jan. 20 surprise attack in the southern city of Karbala "could not have conducted this complex operation without the support and direction of the Quds Force," Bergner said.

The Karbala attack was one of the most sophisticated against US forces in the 4-year-old Iraqi war.

Carrying false IDs, up to a dozen fighters disguised themselves as an American security team. They got past checkpoints to reach a provincial government building, where they opened fire with machine guns and explosives. One US soldier was killed in the initial attack, and four others were abducted and found shot to death soon after.

Al-Khazaali was in charge of special groups around Iraq and confessed to ordering the Karbala attack, Bergner said. A 22-page document seized with him detailed the operation, showing that the Quds Force had developed detailed information on US soldiers' "shift changes and defenses" at the government building, "and this information was shared with the attackers," Bergner said.

A total of 18 "higher-level operatives" from the Iranian-backed special groups have been arrested and three others killed since February, Bergner said.

The Shiite-led Iraqi government of Prime Minister Nouri al-Maliki is backed by the US but is also closely tied to Iran, and it has hoped that talks between the two rivals could ease the tensions between them and reduce Iraq's violence.

An initial Baghdad session in February between ambassadors from the two countries, however, made little progress, overshadowed by accusations by each side that the other was fueling Iraq's turmoil. Iraq is trying to organize a second meeting, but no date has been set.

Sami al-Askari, al-Maliki adviser, said, "We don't rule out that there is Iranian interference by financing armed groups, whether Shiite or Sunni, or even that there might be some Hezbollah elements training the groups."

But he insisted the US accusations "will not affect the Iranian-American meeting."

| | | |
| --- | --- | --- |
| 1 | 2 | |