GLASGOW, Scotland - Two men rammed a petrol-filled, four-wheel-drive vehicle into Glasgow airport on Saturday in what police called a terrorist attack linked to a car-bomb plot foiled in London the previous day.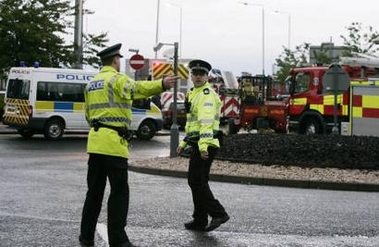 Police guard an entrance to Glasgow airport in Glasgow, Scotland June 30, 2007. Two suspects rammed a petrol-filled, four-wheel-drive vehicle into Glasgow airport on Saturday in what police described as a terrorist attack linked to a twin car-bomb plot foiled in London. [Reuters]
"I can confirm that we believe the incident at Glasgow airport is linked to the events in London yesterday," the chief constable in the Glasgow area, Willie Rae, told reporters.
"There are clearly similarities and we can confirm that this is being treated as a terrorist incident."
Rae said the vehicle, a green Jeep Cherokee, was driven at speed into the main, glass door entrance to the airport terminal and then exploded in flames. Two men were arrested after the attack, one of whom was taken to hospital in critical condition.
Rae said the badly burnt man was found to have a "suspect device" hidden on his body, but he would not confirm it was a suicide vest. The hospital briefly had to be evacuated while the device was inspected.
The attack, which Scotland's first minister described as a "terrorist incident", came barely 36 hours after police thwarted a possible al Qaeda plot in London in which two cars loaded with fuel, gas canisters and nails were left on a busy street in the centre of the capital poised to detonate.
Britain's Home Office announced it had raised the national security alert level to "critical", the highest ranking and one which indicates further attacks are expected imminently.
Prime Minister Gordon Brown, in office for just four days and already facing a series of security threats, convened a meeting of Britain's top security committee.
Afterwards he said: "I want all British people to be vigilant and want them to support the police and all the authorities.... I know the British people will stand together united, resolute and strong."
After Saturday's attack, security sources cautioned about further incidents.
There are "people out there who've got the capability and the intent to launch further attacks", a security source said.
Security personnel at sites such as rail terminals, airports, stadiums and shopping centres would be looking to step up protection as a result of the raised alert, he said.
U.S. SECURITY TIGHTENED
In Kennebunkport, Maine, the United States announced it was boosting security at airports nationwide, although the overall U.S. terrorism threat level would remain the same.
In Glasgow, where one member of the public was injured trying to wrestle the two suspects to the ground, witnesses described those arrested as Asian men and said the car had charged furiously towards the airport entrance.
"It raced across the central reservation and went straight into the building," said taxi driver Ian Crosby outside the terminal, who said a stocky Asian man had got out of the car and was quickly wrestled to the ground by bystanders.
Another witness said the occupants had got out of the vehicle after they crashed it into the building and taken out cans of petrol that they then used to douse the car, before it went up in flames.
The airport was shut down following the incident.
In London, police scoured hours of CCTV footage and extra squads were deployed on the streets after Friday's scare.
An intensive counter-terrorism investigation was launched after the discovery in the early hours of Friday of the vehicle packed with up to 60 litres of fuel, several gas canisters and a large quantity of nails.
A mobile phone, which security experts believed might have been a detonation device, was left inside the fume-filled car.
A second Mercedes packed with gas and nails was later found to have been parked just a few hundred yards from the first.
Police said the two vehicles were clearly linked. Both bombs were quickly defused but, had they gone off, would have caused significant injuries and deaths, police said.
The foiled plot came to light two years after a coordinated attack by suicide bombers on London's transport system killed 52 commuters. It appeared to have similarities to an earlier plot in which an al Qaeda militant planned to blow up gas-filled bombs inside limousines in London and another where a major night club was one of a range of targets.