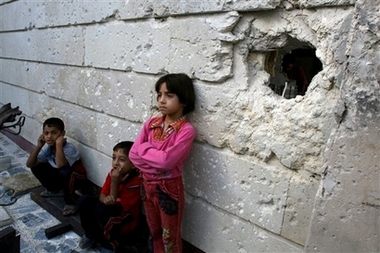 Iraqi kids stand by their damaged house in the Shiite enclave of Sadr City Saturday, June 30, 2007. [AP]
BAGHDAD - American soldiers rolled into Baghdad's Sadr City slum on Saturday in search of Iranian-linked militants and as many as 26 Iraqis were killed in what a US officer described as "an intense firefight."
But residents, police and hospital officials said eight people were killed - all civilians in their homes, and angrily accused US forces of firing blindly on the innocent. Prime Minister Nouri al-Maliki condemned the raids and demanded an explanation for the assault into a district where he has barred US operations in the past.
Separately, two American solders were charged with the premeditated murder of three Iraqis, the US military said Saturday. And in Muqdadiyah, 60 miles north of the capital, police said a suicide bomber exploded himself in a crowd of police recruits, killing at least 16 people and wounding 24, a police officer said on condition of anonymity because he was not authorized to release the information.
The US military said it conducted two pre-dawn raids in Sadr City, Baghdad's largest Shiite slum, killing 26 "terrorists" who attacked US troops with small arms fire, rocket-propelled grenades and roadside bombs. But Iraqi police and hospital officials said all the dead were civilians killed in their homes.
"The Iraqi government totally rejects US military operations... conducted without a pre-approval from the Iraqi military command," al-Maliki said in a statement released by his office. "Anyone who breaches the military command orders will face investigation."
An American military spokesman insisted all of those killed were combatants.
"Everyone who got shot was shooting at US troops at the time," said Lt. Col. Christopher Garver, the spokesman. "It was an intense firefight."
The Iraqi officials, who spoke on condition of anonymity out of security concerns, put the death toll at eight, with 20 wounded.
Seventeen suspected militants also were detained in the operation, which consisted of two separate raids, the US military said in a statement.
American troops entered the Shiite enclave in search of militants suspected of helping Iranian terror networks fund operations in Iraq, the statement said. There were no US casualties, it said.
Witnesses said US forces rolled into their neighborhood before dawn and opened fire without warning.
"At about 4 a.m., a big American convoy with tanks came and began to open fire on houses - bombing them," said Basheer Ahmed, who lives in Sadr City's Habibiya district. "What did we do? We didn't even retaliate - there was no resistance."
The raids centered on the Habibiya and Orfali districts of Sadr City, police said.
Sadr City is the Iraqi capital's largest Shiite neighborhood - home to some 2.5 million people. It is also the base of operations for the Mahdi Army, a militia loyal to anti-American cleric Muqtada al-Sadr. The fighters are blamed for much of the sectarian killing in Baghdad.
In the Shiite holy city of Najaf, Sheik Salah al-Obaidi, a spokesman for al-Sadr condemned Saturday's raids: "The bombing hurt only innocent civilians."
The US military statement said soldiers riding in armored vehicles "used proper escalation of force rules to engage four civilian vehicles."
"You start with warnings and work your way up to firing on a vehicle," Garver said. "Every structure and vehicle that the troops on the ground engaged were being used for hostile intent," he said.
US soldiers fired a barrage of bullets at one vehicle after it failed to yield at a checkpoint, Garver said. The other civilian cars were being used as a cover for insurgents, who hid behind them and fired on American forces, he said.
Some of the 26 victims were in civilian cars, some had been hiding behind the cars and others had fired on US troops from nearby buildings, Garver said.
But according to Iraqi officials, the dead included three members of one family - a father, mother and son. Several women and children, along with two policemen, were among the wounded, they said.
One of the policemen, Montadhar Kareem, said he was on night duty in the Habibiya area when the raids began.
"At about dawn, American troops came with tanks and began bombing houses in the area," he said.
"The bombing became more intense, and I was injured by shrapnel in both my legs and in my left shoulder," Kareem said from a gurney at Al Sadr General Hospital.
Hours after the raids, a funeral procession snaked through the streets of Sadr City's Orfali district. Three coffins were hoisted atop cars.
One resident who goes by the nickname of Um Ahmed, or "mother of Ahmed," stood outside her home as mourners passed by.
"We are being hit while we are peacefully sleeping in our houses. Is that fair?" she cried. The woman gave only her nickname, fearing reprisal.
Houses, a bakery and some other shops were damaged by fire from US tanks during the operation, Iraqi officials said.
In the murder case, the two American soldiers are accused of killing three Iraqis in separate incidents, then planting weapons on the victims' remains, the military said in a statement. Fellow soldiers reported the alleged crimes, which took place between April and this month in the vicinity of Iskandariyah, 30 miles south of Baghdad, it said.
The US military on Saturday identified the soldiers as Staff Sgt. Michael A. Hensley from Candler, N.C., and Spc. Jorge G. Sandoval from Laredo, Texas.
Hensley is charged with three counts each of premeditated murder, obstructing justice and "wrongfully placing weapons with the remains of deceased Iraqis," the military said. He was placed in military confinement in Kuwait on Thursday.
Sandoval faces one count each of premeditated murder and placing a weapon with the remains of a dead Iraqi, a statement said. He was taken into custody Tuesday while at home in Texas, and was transferred to military confinement in Kuwait three days later, it said.