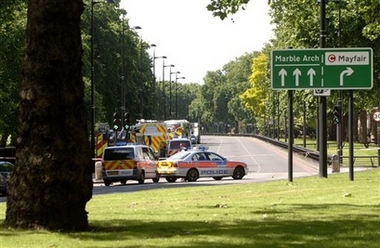 London's Park Lane is closed by police who are examining a suspicious vehicle in London, Friday June 29, 2007. A suspicious vehicle found near London's Hyde Park is connected to a car bomb defused earlier by British police, Sky News TV reported Friday. Police closed Park Lane, on Hyde Park's eastern side, to investigate a suspicious vehicle and set up a 200-meter (650-feet) cordon around the car. [AP]
LONDON - Police thwarted a devastating terrorist plot on Friday, discovering two Mercedes loaded with nails packed around canisters of propane and gasoline set to detonate and kill possibly hundreds in London's crowded theater and nightclub district.
The plot, coming only two days after Gordon Brown took over as prime minister, raised the specter of the attacks in July 2005 when the London Underground and an iconic double-decker bus were targeted by a group of homegrown terrorists who killed 52 people.
As police searched for car bombs and terrorists in the city of 7.5 million, roads were closed and police sirens echoed. Authorities stepped up security across Britain, from central London streets to the Wimbledon tennis tournament.
But Londoners — with long experience in dealing with bombs and terrorism — were not in hiding and the West End was bustling again by nightfall Friday.
"I know you can't live your life being scared," Natalie Huntley, 28, a tourist from Adelaide, Australia, said outside St. Paul's Cathedral even as police investigated another suspicious vehicle parked on nearby Fleet Street. "You've just got to keep going, don't you?"
Authorities said the bombs in both cars were similar and that each Mercedes had been abandoned in the same area near Piccadilly Circus. Had they exploded, at least hundreds of people would have been killed.
The discovery of the car bombs before they exploded was a bonus for police, who checked for fingerprints and DNA clues, as well as other trace evidence. They also had the benefit of footage from closed-circuit TV cameras, hoping the surveillance network that covers much of central London will help them track down the driver of the Mercedes.
The footage would be compared with license plate recognition software, British anti-terror police chief Peter Clarke said. There are 160 security cameras in the Westminster Council, the district encompassing Piccadilly Circus and the Haymarket area, alone.
Nobody claimed responsibility for the plot, and government security officials said late Friday that no suspects have been identified.
But the discovery of the second bomb, about 20 hours after the first, suggested a coordinated and more sophisticated plot than was initially thought — similar to the July 7, 2005 suicide bombings where four bombs exploded within an hour of one another on London's busy transit system.
Some analysts said the bombers could be trying to send a message to Britain's new leader.
"It's a way of testing Gordon Brown," said Bob Ayers, a security expert at the Chatham House think tank. "It's not too far-fetched to assume it was designed to expedite the decision on withdrawal (from Iraq)."
Professor Paul Wilkinson, chairman of the Center for the Study of Terrorism and political violence at St. Andrews University, said a number of factors could have come together to prompt the thwarted attacks.
"With the change in prime minister this could be the work of al-Qaida," he said. "They have a track record of trying to influence political change through violent means such as in the Madrid train attacks.
After the first bomb was announced, a sober Brown said "we face a serious and continuous security threat in our country."
British authorities and White House press secretary Tony Snow were cautious.
"Look, it's terrorism, but we don't know if there — there's no definite, there's no established connection with any organization at this point," Snow said. U.S. authorities said there was no apparent terror threat to the United States.
There had been no prior intelligence of planned attacks from the terror organization, a British government official said earlier Friday on condition of anonymity because of the sensitivity of the investigation.
The July 7 bombers were all Muslims raised in Britain. A government account of the attacks released last year said it was unclear whether others in Britain had radicalized or incited the group, and that it was not known if al-Qaida figures, or others, had assisted in planning the bombing.
The events unfolded when police were called to Haymarket, south of Piccadilly Circus, after a man fell at the nightclub Tiger Tiger, injuring his head, prompting a call for an ambulance around 1:30 a.m. Friday.
When crews arrived, they noticed smoke coming from a green Mercedes parked in front of a club, Clarke said.
Photographs showed a canister bearing the words "patio gas," indicating it was propane, next to the car. The propane gas is of the type usually used in backyard barbecues and patio heaters. The back door was open with blankets spilling out. The car was removed from the scene after a bomb squad disabled the explosives.
A bomb squad called to the scene manually disabled the explosives.
Sky News television reported that a police officer seized a telephone from the car — believed to have been a potential detonator for the explosives — and an American lawmaker briefed on the investigation confirmed that British authorities found a cell phone.
"They found a cell phone and it was going to be used to detonate the bomb," said U.S. Rep. Peter King, R-N.Y.
The bomb in the Mercedes near Piccadilly Circus was powerful enough to have caused "significant injury or loss of life" at a time when hundreds were in the area, Clarke said.
The announcement of the second bomb came about 20 hours later, after police had closed off a nearby major street along Hyde Park for several hours to investigate a suspicious blue Mercedes. That car had been towed across town to an impound lot; the attendants there, on the alert after news of the first foiled car bombing, smelled gasoline and alerted authorities.
The car had been parked on Cockspur Street, which runs between Haymarket and Trafalgar Square. About 2:30 a.m., it was ticketed and then towed an hour later to the impound lot on Park Lane on Hyde Park's eastern edge, Clarke said.
The blue Mercedes "was found to contain very similar materials to those that had been found in the first car," Clarke said. "There was a considerable amount of fuel and gas canisters. As in the first vehicle, there was also a quantity of nails. This like the first device was potentially viable."
The busy Haymarket thoroughfare, linking Piccadilly Circus in the heart of London's theater district and near Trafalgar Square, is packed with restaurants, bars, a cinema complex and West End theaters.
Tiger Tiger is a stylish three-story venue that stays open until 3 a.m. and at full capacity can fit 1,770 people. Thursday was ladies' night.