PYONGYANG, North Korea - The UN nuclear watchdog and North Korea have reached an agreement on how the agency will monitor and verify shutdown of the country's main nuclear reactor, a top official said Friday.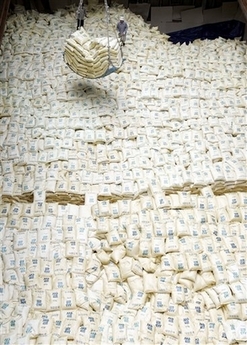 South Korean workers load packs of rice for North Korea into a Vietnamese ship at Gunsan port in Gunsan, south of Seoul, South Korea, Friday, June 29, 2007. [AP]
A team from the International Atomic Energy Agency returned Friday to the North Korean capital from a two-day trip to the Yongbyon nuclear complex, broadcaster APTN reported. It was the first IAEA visit to the facility since UN monitors were expelled from the country in 2002.
"We have concluded this understanding, what our monitoring and verification activities are in principle," IAEA Deputy Director Olli Heinonen said in footage shot by APTN. He did not provide specifics of the agreement.
Heinonen said his team, which was scheduled to leave Pyongyang for Beijing on Saturday, was preparing to report to the IAEA board of governors within one week, but noted that the timing of the shutdown was up to the six countries involved in North Korea nuclear talks.
"This is for the six parties to decide," he said in the APTN footage. "You have to ask them the time scale. When they do (decide), we will be ready."
An IAEA official in Vienna, who spoke on condition of anonymity because he was not authorized to comment to media, said that a board meeting would likely take place July 9, with the 35 member nations expected to approve sending the first inspection team to the North as quickly as possible.
North Korea pledged to close and seal Yongbyon in exchange for economic aid and political concessions in an agreement with the U.S., China, Japan, Russia and South Korea. The purpose of the IAEA trip was to discuss how the agency's inspectors would monitor and verify a shutdown.
UN monitors expressed strong satisfaction with its rare visit to the North Korean reactor, praising the regime for its cooperation in an indication Pyongyang is serious about meeting its promise to close the facility.