Weary from constant downpours that have claimed 11 lives in the last 11 days, residents of central Texas braced for yet another deluge Thursday. A search was under way for two motorists apparently swept off a road.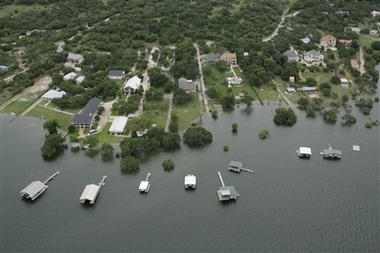 Boat garages and flooded backyards of home on Lake Travis are shown after an overnight storm flooded homes, closed roads, and carried cars away, Wednesday, June 27, 2007, near Austin, Texas. [AP]


About 3 inches of rain fell overnight in some areas, far short of the 10 inches forecast, but more was expected during the day and flash flood warnings were in effect.
Deputies in Williamson County, north of Austin, were searching for a woman and her boyfriend after their car was found abandoned near Liberty Hill, sheriff's Detective John Foster said. The car appeared to have been swept off the road by flood waters.
Almost a week of nonstop rain — including 18 inches near Marble Falls on Wednesday morning — left dozens of people stranded on rooftops, cars and in trees. No new fatalities were immediately reported.
Marble Falls, about 40 miles northwest of Austin, was spared any rain overnight, but Williamson County got about 3 more inches. Storms near Austin and San Antonio were expected to dump at least 4 more inches of rain Thursday, and up to 10 inches if any of the weather systems merge, the National Weather Service said.
In Georgetown, north of Austin, 10 people were evacuated from three homes Thursday morning because of flooding on a branch of the San Gabriel River, said Keith Hutchinson, the city's public information officer. There were no reports of injuries.
Authorities also closed several impassable roads in Williamson County. Some cars stalled in the high water, but the occupants escaped, county spokeswoman Connie Watson said.
Early Wednesday, the downpour and winds were so treacherous that helicopters were forced to halt efforts to rescue people from rooftops. Marble Falls Mayor Raymond Whitman said there were 32 high-water rescues, and Austin-area officials said there were reports of up to 20 people needing to be saved.
Whitman, whose own living room was filled with water, said some looting had been reported in flood-damaged areas. No curfew had been mandated in this town of 7,200, but Whitman said he would institute one if people were out.
Lakefront residents in two subdivisions near Buchanan Dam were advised to evacuate. In one area, about seven families were evacuated from their homes by helicopter because the roads were not passable.
The Texas National Guard dispatched troops and vehicles to Central Texas, as well as other areas hit by storms from the Oklahoma border to the Rio Grande Valley. About 150 troops and 50 vehicles were mobilized.
Whitman said the flooding washed out three bridges and also tore the back wall off the funeral home. He also warned that more rain could cause bigger problems.
"The ground is fully saturated ... it could be severe," Whitman said. "If people do not pay attention and move to high ground, it is very possible that there will be fatalities."
Rain drenched North Texas as well, creating flooding along some creeks and rivers. Floodwaters were rising along the Brazos River after the Brazos River Authority opened the floodgates on the Possum Kingdom dam.
In Parker County west of Fort Worth, County Judge Mark Riley has declared an emergency and ordered mandatory evacuation of subdivisions along the Brazos.
It's the wettest year on record in Austin, where more than 30 inches of rain has fallen since January, and Dallas-Fort Worth, Waco and Wichita Falls have near-records. The rainfall has more than compensated for a drought that much of Texas had been experiencing since 2005, the National Weather Service said.
Citing the bad weather, American Airlines is letting affected travelers change tickets once without a fee. Passengers on the nation's largest carrier, based in Fort Worth, can change reservations as late as July 9 for original travel dates between June 26 and July 1.