SEOUL, South Korea - UN inspectors visiting North Korea were given permission to visit DPRK's key nuclear reactor for the first time in nearly five years, according to a Wednesday news report.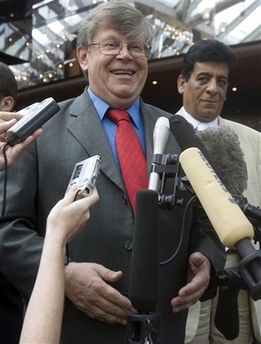 Olli Heinonen, the International Atomic Energy Agency's deputy director general for safeguards speaks to journalists before leaving his hotel in Beijing Tuesday, June 26, 2007. [AP]


Japan's Kyodo News agency, quoting International Atomic Energy Agency Deputy Director Olli Heinonen, reported that North Korea would allow monitors from the UN nuclear watchdog to visit its Yongbyon nuclear facility on Thursday and Friday.
"Tomorrow, we're going to Yongbyon," Heinonen told Kyodo, adding that the inspectors would return to Pyongyang on Friday.
The North's permission would be the latest sign that Pyongyang is serious in carrying through its disarmament pledge.
North Korea agreed to close the plutonium-producing Yongbyon reactor in February in exchange for economic aid and political concessions. But North Korea ignored an April deadline to do so because of a banking dispute with the United States.
That dispute has finally been resolved this week after months of delay, and Pyongyang announced Monday that it would move forward with the disarmament deal.
It would be the first time for UN nuclear inspectors to visit Yongbyon since North Korea expelled IAEA monitors in late 2002 after the current crisis broke out with US accusations that Pyongyang had a secret, uranium-based weapons program.
The facility is at the center of international efforts to stop North Korea's nuclear program. The country carried out its first atomic test explosion in October.
The negotiating climate has sparked optimism in North Korea's neighbors.
"After the consultation is over, I think it will be shut down as early as possible," South Korean Foreign Minister Song Min-soon said, referring to the North Korea's reactor.
Song, leaving for Washington for talks with Secretary of State Condoleezza Rice, said the reactor's closure is now a "technical issue," which would not be subject to a "political decision" by North Korea.
Heinonen, whose team arrived in the North's capital on Tuesday, said the officials there who greeted his team at the airport in Pyongyang were friendly and appeared ready for discussions.