Arab and Israeli leaders held a high-profile summit Monday aimed at strengthening Palestinian President Mahmoud Abbas and containing the militant Hamas after its victory in Gaza by giving a push to the peace process.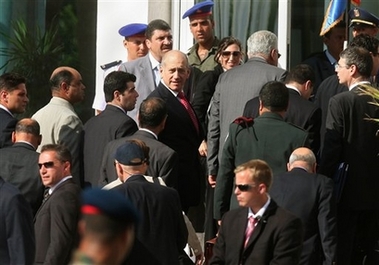 Israeli Prime Minister Ehud Olmert, center, is surrounded by officials and bodyguards as he arrives for a summit in the Red Sea resort of Sharm el-Sheikh, Egypt, Sunday, June 25, 2007. Israel's prime minister downplayed expectations ahead of Monday's summit bringing together Israeli and Arab leaders, saying the meeting, designed to boost Palestinian President Mahmoud Abbas in his struggle against Hamas, would provide a launching point for renewed peace talks, not the venue for a major breakthrough. [AP]


Ahead of the gathering, a series of messages released by militants underlined Gaza's turmoil, which has raised Arab and Israeli fears that the tiny coastal territory could become a breeding ground for extremists.

Hamas-linked militants holding an Israeli soldier for the past year released an audiotape of him urging Israel to strike a deal for his release. A British journalist kidnapped in Gaza appeared in a video wearing an explosives belt that his captors threatened to detonate if security forces try to free him. And al-Qaida's deputy leader tried to woo Hamas into an alliance and called on Muslims to attack American and Israeli interests in support of the group.

Egypt, the host of the summit in this Red Sea resort, is particularly worried about a spillover of violence from Hamas-held Gaza and organized the gathering in a bid to isolate the Palestinian militant group.

Israeli Prime Minister Ehud Olmert held separate talks with Egyptian President Hosni Mubarak and Abbas. Jordanian King Abdullah II arrived later in Sharm to join them in a four-way meeting later in the evening.

The Arabs and Palestinians are pressing Israel to take immediate advantage of the Hamas militants' expulsion from the coalition government and make quick peace progress despite the Palestinians' split between a Gaza ruled by the Iranian-backed Hamas in Gaza and the West Bank run by Abbas' Western-backed Fatah in the West Bank.

But Israeli Foreign Ministry spokesman Yigal Palmor said major peace negotiations cannot take place until the Palestinians end their divisions. He said Abbas needs to win "the full support of the Palestinians who voted for Hamas."

"Obviously if there's more than one representative of the Palestinians then we cannot negotiate a deal," Palmor said. "So we will need to have and the Palestinians will need to have one sole authorized, recognized interlocutor."

Olmert played down expectations of major Israeli concessions during the gathering. "Don't wait impatiently tonight for the outcome as if at the end of the day you are going to see us sitting and signing a peace treaty. It will take time," Olmert said.

Still, he said the gathering would show all sides' "genuine desire to build up a process" of peace-making.

Abbas is hoping the summit will pave the way for Israel to ease security restrictions in the West Bank, where his emergency government holds sway, and for a resumption of peace negotiations. On Sunday, Israel agreed to release to Abbas desperately needed funds it has withheld from the Palestinian government.

Speaking in Gaza on Sunday, deposed Palestinian Prime Minister Ismail Haniyeh of Hamas, denounced summit hopes as "illusions" and a "mirage."

"The Americans won't give anything. Israel won't give us anything. Our land, our nation will not come back to us except with steadfastness and resistance," he said.

Earlier Sunday, Olmert's Cabinet approved the release of tax funds that Israel collects on behalf of the Palestinians but has withheld since Hamas swept Palestinian parliamentary elections in January 2006. Israel is holding $550 million in frozen funds, but the Cabinet decision did not say how much of the money would be released, or when.

The Israeli freeze on the money rendered past Palestinian governments unable to pay full salaries to government employees, causing hardship in the already impoverished territories.

The Sharm el-Sheik summit comes a day ahead of a gathering in Jerusalem of the Quartet of Mideast negotiators ¡ª the U.S., EU, U.N. and Russia. The hope is that the meeting in Egypt could lead to more in-depth international efforts to prod peace talks that broke down amid violence in 2001.

At the same time, momentum is growing for outgoing British Prime Minister Tony Blair to be named as an international envoy for the Middle East. The Financial Times newspaper reported Monday that the Quartet members had agreed to confirm his appointment at their Jerusalem gathering.

On Tuesday, Mubarak is to meet with Saudi King Abdullah in Sharm el-Sheik, seeking to unify an Arab front behind Abbas.

Mubarak is afraid a Hamas-ruled Gaza on his country's border could embolden Egypt's own banned Islamic opposition, the Muslim Brotherhood, and spawn terror attacks. Abdullah is afraid the Fatah-Hamas conflict could spread to the West Bank and spill over to neighboring Jordan, where about half the population is Palestinian.

And both, along with Saudi Arabia, are afraid Gaza could become a forward position for their regional foe, Iran.