Speculation that Mayor Michael Bloomberg was interested in a third-party presidential run was merely simmering last summer when he was asked about the idea of leaving the GOP and becoming an independent.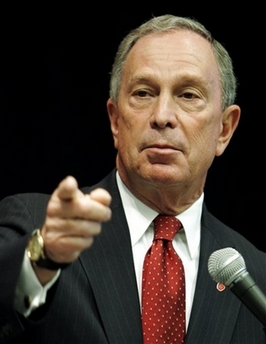 New York Mayor Michael Bloomberg talks with reporters at a conference in Los Angeles Tuesday, June 19, 2007. Later Tuesday, Bloomberg left the Republican Party and switched to unaffiliated, a move certain to be seen as a prelude to an independent presidential bid that would upend the 2008 race. The billionaire former CEO, who was a lifelong Democrat before he switched to the Republican Party in 2001 for his first mayoral run, said the change in his voter registration does not mean he is running for president. [AP]


The billionaire mayor pointed out that the Republican Party had given him an opportunity to get elected in 2001, when he switched his lifelong Democratic registration to avoid a crowded primary.
"There's no reason for me to change my party at the moment," Bloomberg said then.
Apparently the moment has come.
After some six years as a Republican, the 65-year-old former CEO announced Tuesday that he has left the Republican Party and become unaffiliated in what many believe could be a step toward entering the 2008 race for president.
Bloomberg has fueled those notions with increasing out-of-state travel, greater focus on national issues and repeated criticism of partisan politics, all the while vowing to leave public office at the end of his term in 2009.
"Although my plans for the future haven't changed, I believe this brings my affiliation into alignment with how I have led and will continue to lead our city," Bloomberg said in the statement he issued Tuesday.
Notwithstanding Bloomberg's coyness, the mayor's announcement only increases speculation he will pursue the White House, challenging the Democratic and Republican nominees with a well-financed third-party bid.
Bloomberg, who founded the Bloomberg LP financial news service, has an estimated worth of more than $5 billion and easily could underwrite a White House run, much like Texas businessman Ross Perot did in 1992. Bloomberg spent more than $155 million for his two mayoral campaigns, including $85 million when he won his second term in 2005.
A Bloomberg entry into the presidential contest could inject additional turmoil into an already wide-open race, but there is no clear consensus on how a Bloomberg candidacy would affect the outcome.
Some operatives believe Bloomberg's moderate positions would siphon votes from the Democratic nominee. Others say he could just as easily spoil it for the Republicans.
A Quinnipiac University poll, conducted just before the mayor's announcement, found that among New York state voters Democratic Sen. Hillary Rodham Clinton led at 43 percent followed by Republican Rudy Giuliani at 29 percent and Bloomberg at 16 percent. The poll found Bloomberg pulling votes about equally from Clinton and Giuliani.
Asked about the mayor's decision as she left a Senate hearing Wednesday, Clinton said: "I'm not surprised that anyone would want to leave the Republican Party."
In 1992, Perot captured 19 percent of the popular vote as Democrat Bill Clinton seized the presidency from incumbent Republican President George H.W. Bush. Independent Ralph Nader played the spoiler in the 2000 race, taking votes from Democrat Al Gore in a disputed election won by George W. Bush.
Throughout his five years as mayor, Bloomberg often has been at odds with his party and Bush. He supports gay marriage, abortion rights, gun control and stem cell research and hiked property taxes to help solve a fiscal crisis after the Sept. 11 attacks.
But he never seemed willing to part with the GOP completely, raising money for the 2004 presidential convention and contributing money to Bush and other Republican candidates.
Just last year, he told a group of Manhattan Republicans about his run for mayor: "I couldn't be prouder to run on the Republican ticket and be a Republican."
Asked on Monday about a hypothetical independent candidate entering the race, Bloomberg launched a broad critique of the Bush administration and Congress and lamented the presidential debates to date.
"I think the country is in trouble," Bloomberg said, citing the war in Iraq and the nation's declining standing globally.
"Our reputation has been hurt very badly in the last few years," he said. "We've had a go-it-alone mentality in a world where, because of communications and transportation, you should be going exactly in the other direction."