TOKYO - Six-party talks to resolve the North Korean nuclear standoff could resume soon after July 4, the US envoy to the talks said Wednesday.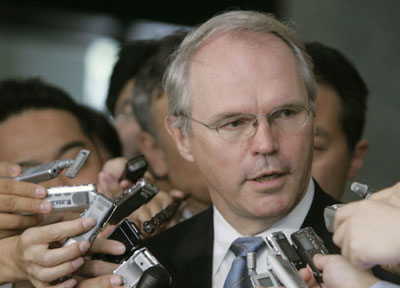 US Assistant Secretary of State Christopher Hill answers reporters' questions after a meeting with Japan's Vice Foreign Minister Shotaro Yachi at the Foreign Ministry in Tokyo June 20, 2007. [Reuters]


US envoy Christopher Hill told reporters that July will be a busy month of shuttle diplomacy for the countries involved, with the full six-party negotiations resuming and ministerial meetings possibly held later in the month.
Activity should pick up following North Korea's receipt of millions of dollars in frozen funds that had stalled nuclear disarmament negotiations for months. Hill said Tuesday that the funds had finally been deposited in a North Korean account.
"We have a lot of work to do in July," Hill said, after a morning meeting with Japanese Vice Foreign Minister Shotaro Yachi.
About US$25 million in North Korean funds were frozen in a Macau bank blacklisted by the United States over allegations of money-laundering and other financial crimes. The financial dispute put a more than yearlong halt to negotiations with North Korea over stopping its nuclear program, and the US approved the release of the money to help end the standoff.
The IAEA, the UN nuclear watchdog, plans to send inspectors to North Korea next week, possibly as early as Monday, to discuss monitoring and verifying the shutdown of the Yongbyon nuclear reactor.
Hill, on a regional tour to Beijing, Seoul and Tokyo, had said he hoped to see a shutdown "within weeks, not months."
Russia's Interfax-China news agency cited an unidentified North Korean official on Monday as saying Pyongyang plans to shut down the reactor in the second half of July.
Hill said he said he has been in contact with the IAEA and it understands the "need to move quickly."
Under a deal reached in Beijing with China, Japan, Russia, South Korea and the United States, North Korea pledged to shut the reactor by the mid-April. No new deadline was set, however, after Pyongyang missed the first deadline due to the banking dispute.
South Korean Foreign Minister Song Min-soon and US Secretary of State Condoleezza Rice said in a phone conversation Tuesday night that they hoped the agreement could now move forward.