More than a 100 people — including civilians, police and Taliban militants — have been killed in massive fighting in the past three days in southern Afghanistan, Afghan officials said Monday.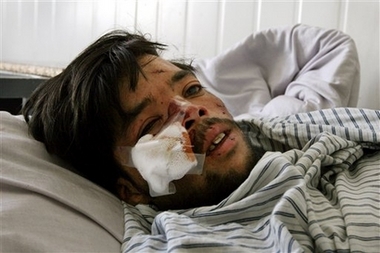 Nasir Ahmad lies in a hospital bed after he survived a bus bombing in Kabul, Afghanistan on Sunday, June 17, 2007. Ahmad, 22, was sitting in the back of the bus when the blast went off. He said the bus had been filled with police instructors. An enormous bomb ripped through a police academy bus at Kabul's busiest transportation hub Sunday, killing at least 35 people. [AP]


Lt. Col. Maria Carl, a spokeswoman for NATO's International Security Assistance Force, said there is "definitely a large engagement that has been going on there," for the last three days. She could not confirm casualty figures.
Because of the continued fighting in Uruzgan province, precise casualty numbers were hard to come by.
Mullah Ahmidullah Khan, the head of Uruzgan's provincial council, said clashes in Chora district had killed 60 civilians, 70 suspected Taliban militants and 16 Afghan police.
An official close to the Uruzgan governor, who asked not to be identified because he was talking about preliminary estimates, said 70 to 75 civilians had been killed or wounded, while more than 100 Taliban and more than 35 police had been killed.