NEW YORK - Israeli Prime Minister Ehud Olmert said Sunday that his country would be a "genuine partner" of a new Palestinian government and promised to consider releasing hundreds of millions of dollars in frozen tax funds.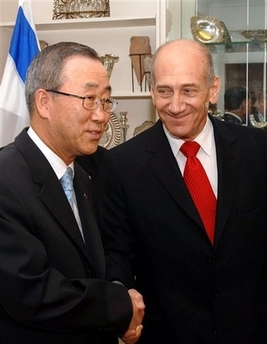 In this photo released by Israel's Government Press Office, United Nations Secretary General Ban Ki-Moon, left, shakes hands with Israeli Prime Minister Ehud Olmert prior to a meeting in New York, Sunday, June 17, 2007. [AP]


Palestinian President Mahmoud Abbas dissolved a coalition government between his Fatah movement and the militant Islamic Hamas group after Hamas seized control of the Gaza Strip this past week. Abbas then appointed Salam Fayyad, a Western-backed economist, to form a new emergency government, which he swore in Sunday in the West Bank.

"I think that despite what has happened in the last two days there is ... a genuine opportunity that the moderate forces headed by President Abbas will be able to form a solid government administered by the Palestinians," Olmert said Sunday in a speech to a conference of presidents of major Jewish organizations in New York.

He said such a government would find "a genuine partner in Israel," and indicated that Israel could ease travel restrictions on the West Bank and release Palestinian tax receipts frozen after the Hamas-led government took power last year.

Olmert also said he would be willing to meet again with Abbas to continue talks on peace and other issues that had been disrupted by the recent outbreak of Palestinian infighting.

Olmert met with UN Secretary General Ban Ki-moon earlier Sunday, and was expected to head to Washington on Monday to speak to top administration officials. He will meet with President Bush on Tuesday.

Hamas' bloody takeover of the Gaza Strip looks certain to dominate talks in Washington. The victory by the Islamic militants - routing the forces of the moderate Fatah movement - has turned the Israeli-Palestinian conflict inside out, creating both challenges and opportunities for Israel and the United States. Olmert is likely to spend most of his visit with Bush coordinating a strategy that would shun Hamas in Gaza while bolstering Fatah in the West Bank.

In his meeting with Ban, Olmert raised the issue of placing an international peacekeeping force between Gaza and Egypt, though Egypt and Hamas are likely to object to the proposal, a senior government official said on condition of anonymity because of the sensitive nature of the talks.

The official also said Israel proposed expanding the mandate of the UN peacekeeping force in Lebanon to include blocking arms shipments from Syria to militants in Lebanon, and pressed Ban regarding the status of two captive Israelis soldiers in Lebanon.

Shortly before the meeting, Olmert received word of two rocket attacks on Israel by militants in Lebanon. The rockets caused no casualties and little damage but raised the specter of a new flare-up on the volatile border less than a year after Israel's bloody war against Hezbollah.

"It's a very disturbing day because we had an attack from Lebanon," Olmert said. "We are still clarifying the circumstances. Lebanon has been very quiet in the last nine months and hopefully will continue to be so."

Hezbollah denied involvement in the attack, and Olmert said it was most likely the work of a small Palestinian faction affiliated with al-Qaida and Islamic Jihad.

| | | |
| --- | --- | --- |
| 1 | 2 | |