WASHINGTON - The Bush administration is poised to lift its economic and diplomatic embargo against the Palestinian government in the West Bank now that a US-backed moderate has evicted Islamic radicals from governance.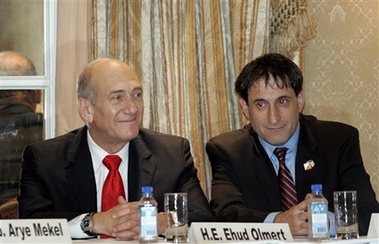 Ehud Olmert, left, Prime Minister of Israel with Israeli Ambassador to Washington Sallai Meridor, right, as he addressed members of the Conference of Presidents of Major Jewish Organizations at the Regency Hotel in New York Sunday, June 17, 2007. [AP]


Secretary of State Condoleezza Rice is expected to announce the new US stance early this week, a senior US official said Sunday. That announcement will coincide with a visit by Israeli Prime Minister Ehud Olmert, who is holding high-level talks in Washington beginning Monday.

The White House declined to comment Sunday, but Jacob Walles, the US consul-general in Jerusalem, said Saturday that the international aid embargo imposed after Hamas won parliamentary elections last year will no longer apply to Palestinian President Mahmoud Abbas' government, and that he expected it to be lifted this week.

The US move essentially would reset US policy to the days before the Islamic militant group Hamas swept legislative elections in early 2006 and upended US and international peacemaking. The United States, Israel and the European Union regard Hamas as a terrorist organization.

Hamas' violent takeover of the Gaza Strip last week, however, essentially split the Palestinian government. Hamas, which does not recognize Israel's right to exist, now runs Gaza, home to an estimated 1.5 million Palestinians. Abbas and his secular Fatah Party now run the West Bank. The West Bank, although much larger, also is home to estimated 1.5 million Palestinians.

That move cleared the way for the United States to resume direct aid payments to the Palestinian government, something it has refused to do so long as Hamas was a part of the government and could benefit from US aid.

Five years ago, President Bush called for a separate, independent Palestine alongside Israel. He was the first US president to back that notion so fully and publicly. But his administration has taken heavy criticism for letting the peace process drift while conditions worsened for the impoverished Palestinians.

"I think there was a need and a recognition to support Abbas several years ago when there was more of a chance that he could succeed as a moderate leader, and we didn't provide that kind of effort - there was not, I think, a consistent plan to do that," Sen. Jack Reed , D-R.I., a member of the Senate Armed Services Committee, said Sunday on CNN's "Late Edition." "And today, he (Abbas) finds himself overwhelmed in Gaza by Hamas."

Gaza was long the seat of power for Hamas while the West Bank is a stronghold for Fatah, the party of former Palestinian Leader Yasser Arafat.

Some in the United States and in Europe have advocated a policy dubbed the "West Bank first" in which the West Bank would stand as an example of what a future Palestinian state could be. Critics on the other side say that leaves Palestinians living in the Gaza Strip without international aid. Europeans oppose this idea, and others worry it would leave the Gaza Strip open to funding and influence from Iran and Syria.

| | | |
| --- | --- | --- |
| 1 | 2 | |